Crab Island is one of the most popular attractions in Destin, Florida. This little sandbar off the coast of Destin is full of sunshine, turquoise waters, and relaxed vibes. It's a great place to simply enjoy the water and meet new people.
But, planning a trip to Crab Island isn't as easy as it seems. When should you visit? How do you get there? What should you bring? Luckily for you, this Crab Island Destin guide answers all of these questions and more! It even suggests a few tours to make your Crab Island adventure planning process as easy as possible.
Simply put, if you're looking for the ultimate guide to Crab Island Destin, this article has you covered!
This post contains affiliate links to the products that I use and trust. This means that I might receive a small commission (at no extra cost to you) if you make a purchase using any of my links below. See full disclosure here.
What Is Crab Island Destin?
---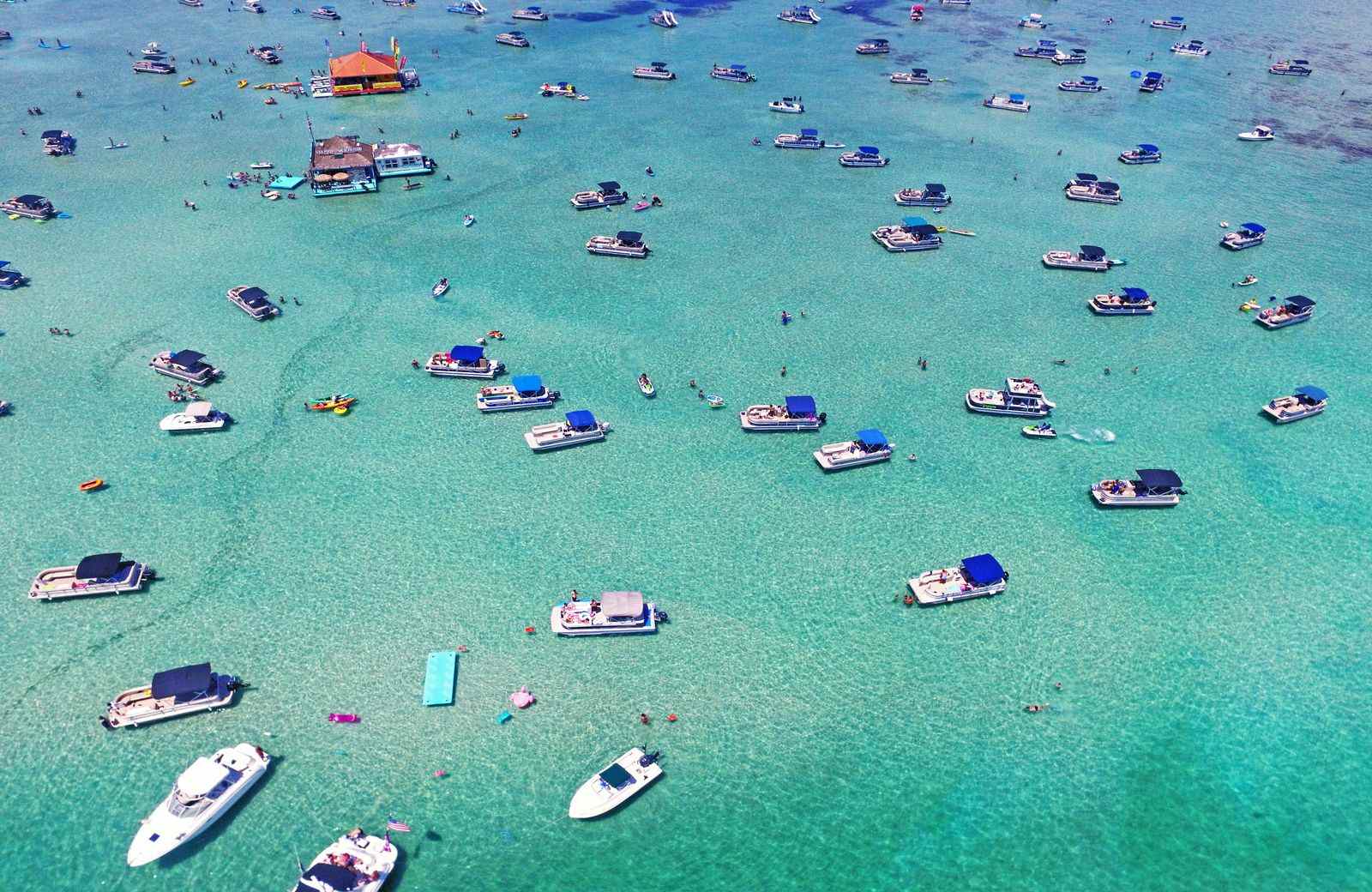 Despite its name, Crab Island Destin isn't actually an island. Once upon a time, it was a manmade island built by the Army Corps of Engineers to stabilize the entrance to the Gulf of Mexico. But today, the manmade Crab Island has eroded to become a simple sandbar.
Nowadays, you'll find locals and tourists soaking in the sun and enjoying a day out on the water on one of the top beaches in Destin Florida. Fun fact — Crab Island used to be a plot of land that was shaped like a crab. The floor of the sandbar is covered in tiny crabs too!
Why You Should Visit Crab Island Destin
---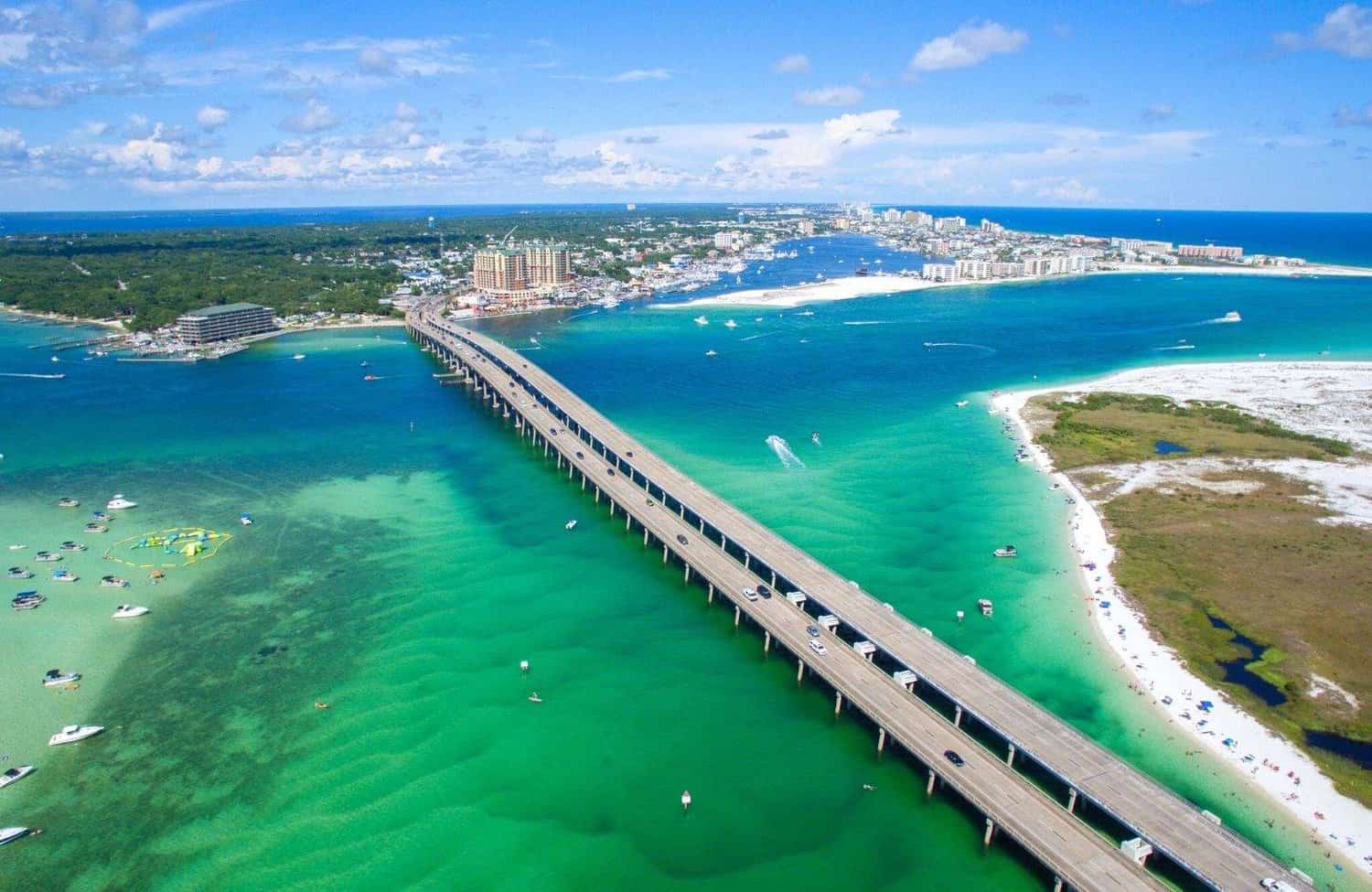 While Crab Island has eroded over time, it is actually more popular now than it was in the past! Today, you can simply enjoy this fantastic hang-out spot. Cool off in the turquoise water, sip on a few drinks, and enjoy the sun. There are also quite a few floating businesses, including restaurants and even the Crab Island Adventure Tour water park!
Or if you'd prefer to be a little more active during your time at Crab Island Destin, there are loads of options for you to do so as well! You can test your kayaking and paddleboarding skills, go snorkeling, or throw around a football or Frisbee.
When to Visit Crab Island
---
Crab Island is actually open year-round, but the best time to visit is obviously during the warmer months of the year. This is typically from March to October. But if you're hoping to experience Crab Island's party scene, the summer months, in particular, are the best time to visit.
As for the best time of day to visit Crab Island Destin, you'll want to go at high tide. This is when the water is at its clearest and bluest, so it's definitely a gorgeous sight to see. To figure out when high tide is, check the tide predictions for the day before you head out.
What to Bring to Crab Island
---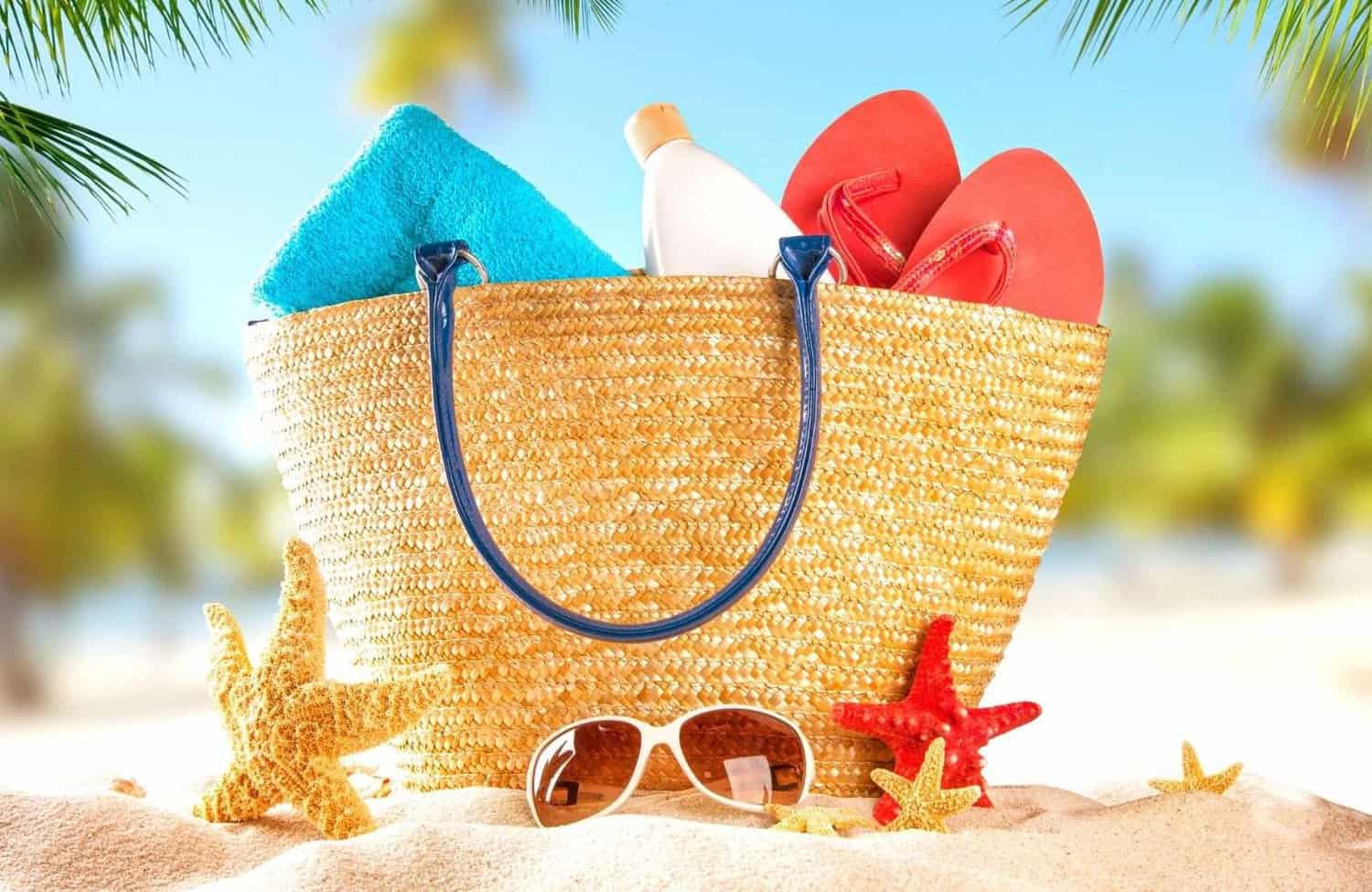 When preparing for a day at Crab Island, you'll simply want to pack like you're prepping for a day at the beach. Here are some essentials you should definitely take with you:
How to Get to Crab Island Destin
---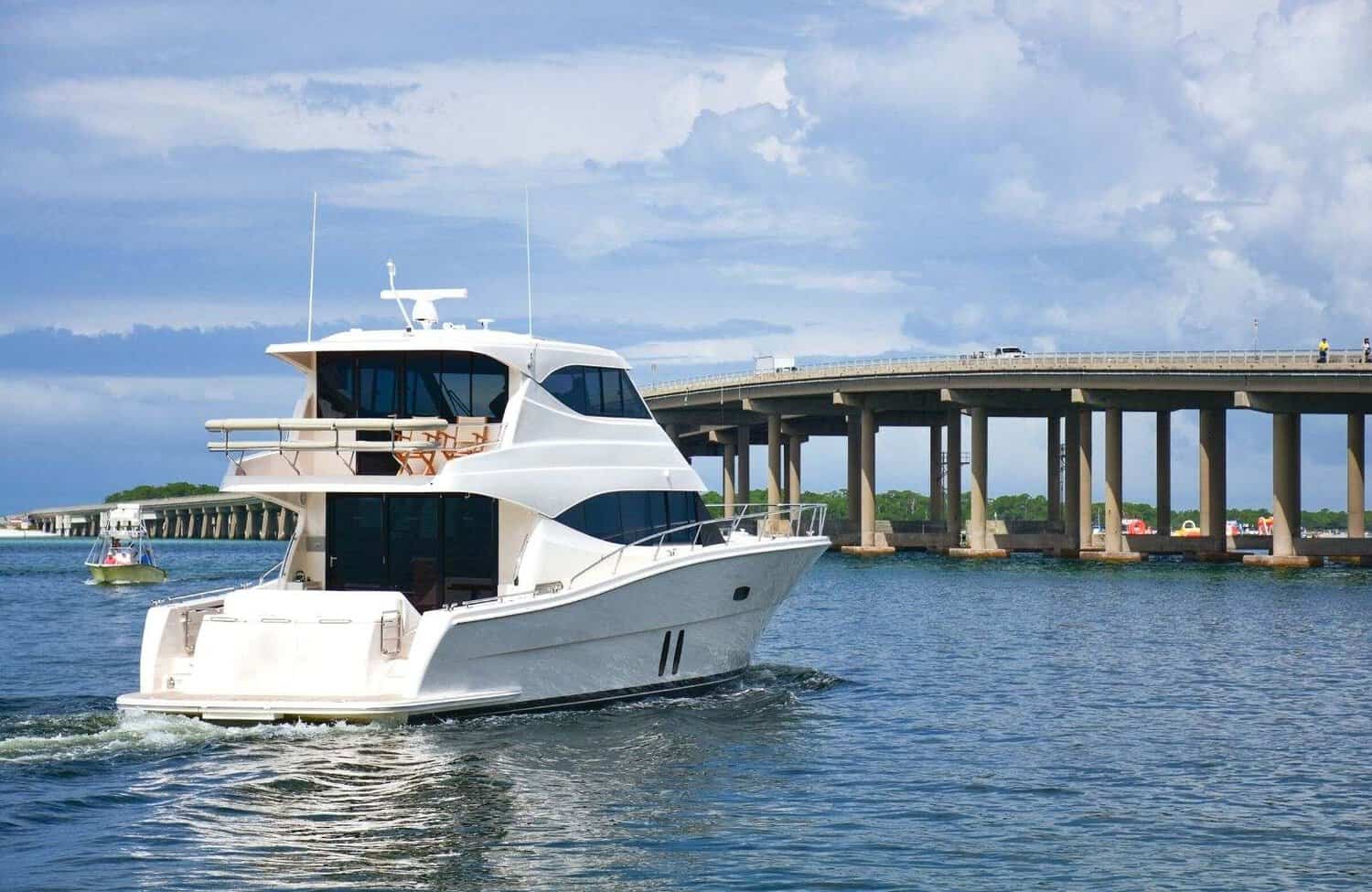 Crab Island is only accessible by boat. This means that you have two options: 1) take your own boat or 2) take a boat tour.
If you'd like to rent your own boat, there are a variety of boat rental companies in the nearby areas of Destin and Okaloosa Island. A few of the most popular boat rental companies include Destin Vacation Boat Rentals, Aloha Pontoon Rentals, Rent Boats Destin, and Double Fun Pontoon Rentals.
But if you're not a licensed boat captain, your best option is to take a boat tour to Crab Island. And luckily for you, I've included a few of the best options below!
Tips for Visiting Crab Island
---
Bring Your Own Alcohol
Recently, laws have been passed prohibiting the sale of alcohol at Crab Island. But, you can still bring your own alcoholic drinks! But always remember — safety first! If you plan on bringing your own boat out to Crab Island, be sure to have a designated driver.
Bring Cash
While a few of the vendors at Crab Island Destin take cards, many only take cash. To make sure that you get to enjoy all of the food and activities that you'd like during your time at Crab Island, remember to bring some cash with you on your day trip.
Visit at High Tide
All Destin locals know that the best time to visit Crab Island is during high tide because that's when the area looks the most picture-perfect! So before you go, be sure to check the tide predictions for the day.
Opt for Reef-Safe Sunscreen
While snorkeling isn't one of the more popular things to do at Crab Island Destin, it is still an option. And since there is snorkeling, that means that there are also reefs and marine life.
To help these reefs and marine animals live long, healthy lives, you'll want to opt for reef-safe sunscreen rather than traditional sunscreen. This small change can do loads of good for the marine environment.
Crab Island Destin Tours
---
The Crab Island 12-Passenger Pontoon Boat Rentals isn't really a tour, per se. Rather, it's actually a boat rental company, so you'll have to captain your own rental pontoon boat.
You can rent any of these 12-passenger pontoon boats for four to eight hours, depending on your preference. These boats also include a Bluetooth stereo, life vests, and a retractable shade. But what makes this boat rental different from the rest is the free fuel, free cooler, and free parking that is also provided.
Book this Crab Island 12-Passenger Pontoon Boat Rental tour here!
If you're looking for a fun, exciting Crab Island Destin tour, this Crab Island Dolphin Watch Jet Ski Tour is a great option.
Jet skis are one of the coolest forms of transportation. While riding on these two-person Yahama jet skis, you can zoom along the surface of the water as salty mist sprays in your face. It's exhilarating!
But if that weren't enough to convince you to book this tour, you'll also have a very good chance of seeing dolphins! Dolphins love to frequent the area between Destin and Crab Island. So if you know where to look – and your guide will know – you'll be able to stop by and say hello!
And last but not least, this Crab Island Dolphin Watch and Jet Ski Tour also includes a relatively brief stop at Crab Island. So while you can experience this popular Destin attraction, you don't have to stay for long. This works perfectly if parties and crowds aren't really your scene, but you still want to know what all the hype about Crab Island is about.
This Crab Island Sandbar Adventure tour is likely the closest option to the Crab Island tour you envisioned in your mind. This tour takes you on a boat to Crab Island, where you'll hang out for a few hours before you head back.
But every fantastic tour – including the Crab Island Sandbar Adventure – knows that you have to do something to stand out from the competition. This tour's solution? A tiki bar-themed boat! Complete with a grass-thatched roof and bamboo chairs, you won't see any other vessels quite like this one.
You can take up to six people on this Crab Island Sandbar Adventure. If your group is larger than six people, you can book two separate tours and then meet up with the other half of your group in the water at Crab Island.
It is important to note that, despite the fact that it is tiki bar-themed, the Crab Island Sandbar Adventure tour does not have alcohol for purchase.
Since jet skiing to Crab Island is one of the coolest ways to get there, I've decided to include not one, but two, jet ski tours on this list!
Like the aforementioned jet ski tour, you'll get to captain your own two-person Yamaha jet ski and say hello to a few dolphins. But this Crab Island Jet Ski Tour allows you to spend a bit more time enjoying the atmosphere of Crab Island. You can enjoy the refreshing water, grab a bite to eat, and even meet a few new friends before zooming back to your original departure point.
If you'd like to have your own boat to enjoy during your time at Crab Island but you don't know how to captain a boat, this tour is a fantastic option. Like the name implies, this Private Boat Charter to Crab Island with a Captain includes a captain to steer your boat for you!
With this particular tour, you can completely customize your itinerary with the captain. This means that you can add other stops in Destin Harbor and the Gulf of Mexico before making your way to Crab Island. And along the way, you may even be able to see a few dolphins and sharks!
This Private Boat Charter to Crab Island with a Captain can cater to groups of up to 14 people.
Book this Private Boat Charter to Crab Island with a Captain tour here!
More Tours in Destin
---
If you're looking for more tours in Destin besides Crab Island, here are a few more that you might like including dolphin tours:
Have you been to Crab Island, Destin, Florida? Let me know in the comments below!
---
Are you looking for more USA travel inspiration? You'll love these posts too!
---
Disha Smith is the founder of Disha Discovers. She quit her job in 2017 to travel the world to explore new cultures and experience new adventures. She has since been to 95+ countries and counting and has lived in South Africa, Thailand, Croatia, and Australia. She has done all kinds of travel ranging from luxury to budget backpacking, and her mission is to inspire others to discover their own sense of adventure and to help them plan a life full of meaningful experiences through travel.