Are you planning on visiting the Vatican? This guide has you covered with everything you absolutely need to know! Did you know that as many as 20,000 people visit the Vatican every day during the summer months? Speaking from personal experience, planning a trip to the Vatican is the most stressful thing you'll have to plan for when visiting Rome.
Vatican City is officially the smallest country in the entire world. But, surprisingly, this superlative isn't what draws millions of people to its 0.17 square miles of land every year.
The reason so many people visit Vatican City is to see the Vatican — the home of the Catholic pope. Within the Vatican, you'll find beautiful sights including St. Peter's Basilica, the Vatican Museum, and the Sistine Chapel. If you're lucky, you might even catch a glimpse of the Pope himself!
Simply put, if you're looking for the ultimate guide to visiting the Vatican, this article has everything you need to know. Whether you're spending one day in Rome or you're there for a few days, visiting the Vatican is definitely worth the effort.
This post contains affiliate links to the products that I use and trust. This means that I might receive a small commission (at no extra cost to you) if you make a purchase using any of my links below. See full disclosure here.
Visiting the Vatican: Everything You Need to Know
---
When to Visit the Vatican
The best time of day to visit the Vatican is in the morning. This is the best way to avoid the huge crowds that come to see this amazing site every single day. Most attractions open at 9 a.m.
As for the best days of the week, you'll want to visit from Tuesday to Friday, if possible. As expected, the weekends are the busiest days. And Monday is also absurdly busy because most other attractions in Rome are closed on Mondays.
How to Get to the Vatican
By Metro
The most popular way to get to the Vatican – for both locals and tourists alike – is by metro. The metro runs all throughout Rome, and while it doesn't have a stop within the borders of Vatican City, it has one just outside: Ottaviano-S. Pietro station. From Ottaviano-S. Pietro station, it's just a five-minute walk to all of the major sites in the Vatican.
By Train
The train is used to cover longer distances than the metro. So if you're coming from the nearby port city of Civitavecchia, for example, you can take the train to the St. Pietro train stop. From there, it's a short ten-minute walk to the heart of Vatican City.
By Public Bus
The Rome public bus system has many stops around the edges of Vatican City. These include V. Le Vaticano/Pisani, V. Le Vaticano/Musei Vaticani, Bastoni di Michelangelo, and Aurelia/Rampa V. Le Vaticano. Simply put, there are many different bus routes you can take to visit the Vatican.
By Hop-On Hop-Off Bus
If you already have tickets for a hop-on hop-off bus, why not use it to get to the Vatican? And if you haven't bought tickets yet, a hop-on-hop-off bus is a fun way to see all of the city's best sites – if you're okay with a bit of touristy flair.
It's important to note that, like the previous three forms of transportation on this list, most hop-on-hop-off buses don't go directly into Vatican City. Rather, they drop you off just outside the border.
By Taxi
If all else fails, you can always take a taxi! This is also the only form of transportation that can take you directly into Vatican City. But make sure your taxi is a legitimate one because taxi scams are quite common. You'll want to get your taxi from an official stand rather than just hailing one off the street.
What to Wear While Visiting the Vatican
Even though the Vatican is a tourist attraction, it is also a place of worship. For that reason, it's important to dress appropriately. As a matter of fact, if you're not following the dress code, you won't be allowed to enter many of the main sites. You'll want to wear something that covers your shoulders and knees. And if you're still in doubt, you can bring a light scarf or wrap.
Tips for Visiting the Vatican
Visit the Vatican in the Morning
Since the Vatican is such a popular attraction, you'll want to go early to avoid the crowds. Most attractions in the area open at 9 a.m., so try to be there by then. You might want to even go a few minutes early.
Book a Ticket in Advance
Even if you get to the Vatican at 9 a.m. on the dot, there will likely be a long line for tickets to St. Peter's Basilica, the Sistine Chapel, and the Vatican Museums. To skip the line, you can book a ticket online in advance!
Book a Tour
Yes, wandering through the Vatican is amazing. But there's no way that you'll know all of the interesting facts and stories that an experienced guide will. To get the most out of your time visiting the Vatican, considering booking a tour.
Visit the Vatican on a Free Day
There are a few days every year when you can visit the Vatican for free: World Tourism Day (September 27) and the last Sunday of every month. So if you're looking to save a few Euros, that's the time to go!
But, as expected, these free days are the busiest days of the year. Be prepared to deal with the crowds – even if you arrive early.
Go When It's Raining
Visiting the Vatican when it's raining is my number one tip when it comes to avoiding long lines. We went on a rainy afternoon and no one was waiting in line. Sure, it's not pleasant to be out and about in rainy weather. But, you'll save so much time and you'll get all of Vatican City to yourself.
Take Your Time
Since the Vatican Museums, St. Peter's Basilica, and the Sistine Chapel are so huge, you may find yourself rushing past art pieces and artifacts towards the end. But it's important to take your time to savor the sites, while also recognizing that you simply can't see everything.
It's also important to note that you can't turn around once you start making your way through these sites. Since there are so many people, traffic is directed in only one direction. In other words, if you pass something you want to see, you won't have a chance to see it during that particular visit. Just another reason for you to take your time.
Make Your Way Up to the Dome
Many visitors completely bypass the dome (or cupola) of St. Peter's Basilica, mostly because they don't know it's there or because they don't have faith in their physical abilities. But it's definitely worth the effort. You'll get stunning views of the inside of St. Peter's Basilica from above and access to the roof!
To reach the top of the dome, you'll have two options. First, you can hike up all 551 steps. This can be quite strenuous and can even give you a bit of vertigo. As an alternative, you can pay for an elevator to take you about halfway up and then climb the remaining 231 steps.
Walk Directly from the Sistine Chapel into St. Peter's Basilica
When going from the Sistine Chapel to St. Peter's Basilica, most people think they have to exit the buildings and cross through St. Peter's Square. After all, this does seem like the most obvious path! But the downside to this is that you'll be stuck in another long line at St. Peter's Basilica.
Instead, you can avoid the line by taking the hidden hallway from the Sistine Chapel to St. Peter's Basilica. To find it, keep an eye out for tour groups and simply follow them!
Common Scams to Avoid While Visiting the Vatican
Ticket Sellers on the Street
As you walk around Vatican City, you'll find many people selling "tickets" for the country's popular attractions. And while this might seem like an amazing way to skip the line, the only thing it'll do is empty your wallet.
The only official ways to buy tickets for the Vatican are online or at the Vatican's official ticket counter.
Bracelets
As you're walking through the Vatican, someone might come up to you and try to tie a bracelet around your wrist. Once it's on they'll ask you for money, even though you didn't ask for the bracelet. And you can't simply take it off, because it's tied onto your wrist. You actually have to cut it off.
It's pretty difficult to avoid this scam. You can quickly pull your wrist away if you feel something. But if you're not fast enough to do that, you can say you don't have cash on you.
Fake Police
That's right. There are fake police scattered throughout the Vatican and Rome. They'll usually ask to look at a receipt and say that there's something wrong with it. Then, they'll slap a hefty fine on you.
Luckily, you can just ask to see the "officer's" badge, and at that point, these fake police will usually just scamper away.
The Best Things to Do and See at the Vatican
Wander Around St. Peter's Square
The first part of the Vatican that you'll be able to explore will likely be St. Peter's Square. After all, it is at the center of Vatican City.
St. Peter's Square was designed in the 17th century by the famous Italian architect and sculptor, Gian Lorenzo Bernini. And he really went all out to honor what he called "the matrix of all the churches."
This picture-perfect square includes a towering central obelisk, two flowing fountains, and nearly 150 intricately carved sculptures. And as you follow the path laid out by St. Peter's Square, you'll eventually end up at the breathtaking St. Peters' Basilica.
Visit St. Peter's Basilica
St. Peter's Basilica is one of the largest churches in the entire world! And within its walls, there are so many small details to catch your eye. You can easily spend hours exploring the beauty of St. Peter's Basilica.
The first St. Peter's Basilica was built in the 4th century, but, due to lack of upkeep, Pope Julius II decided to scrap it and start over in the 1400s. This second one is the one that you'll see today. While at this gorgeous place of worship, you can admire the artwork, climb to the top of St. Peter's Dome, and even take a moment to pray if you'd like.
Since there is so much to see at St. Peter's Basilica, you'll want to consider taking a tour to take a peek at everything that's worth your time.
Admire the Paintings of Michelangelo at the Sistine Chapel
While there are many famous things to do at the Vatican, the Sistine Chapel may be the most well-known attraction of them all.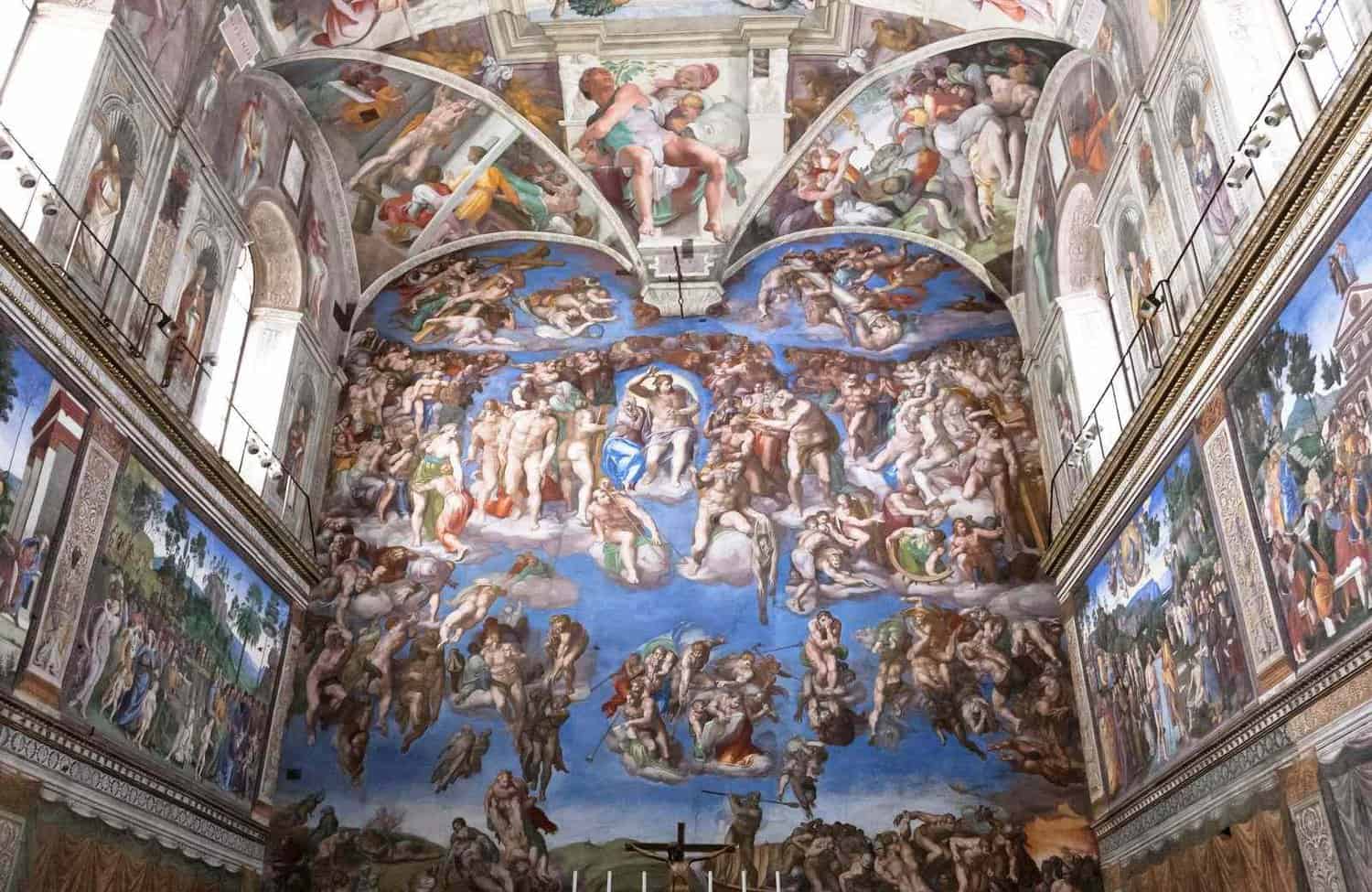 The ceiling of the Sistine Chapel was painted by the famous Italian artist, Michelangelo. The process was so grueling that Michelangelo painted for hours on end while lying on his back on precarious scaffolding! Even with his dedication to the project, it took Michelangelo four years to get it just right.
Over the course of the Sistine Chapel, you'll find paintings of many of the most well-known Bible stories, including the creation story and Noah and the flood.
Pay Your Respects at St. Peters' Tomb
Despite the fact that just about everything in the Vatican is named after St. Peter, most people don't realize that St. Peter, the disciple of Jesus, is buried there.
St. Peter's tomb actually lies below St. Peter's Basilica. Please be respectful during your visit.
All of that said, the Vatican has never definitely stated that these are the remains of St. Peter, as there is no way to prove that. We do know, however, that these remains align with the age, gender, and time period of the disciple.
Stroll through the Pieces at the Vatican Museums
Despite being the smallest country in the world, the Vatican boasts one of the largest art collections – and you should certainly make time for it while visiting the Vatican.
With 54 collections and miles of space, you can find historical artifacts and creative art pieces from just about every time in human history. You can see everything from ancient Egyptian mummies to paintings by Leonardo da Vinci to pieces by modern-day artists while walking through the Vatican Museums.
Since the Vatican Museums are so large, you'll want to research and plan your must-sees in advance. It's simply impossible to see it all in one visit.
Catch a Glimpse of the Pope
While visiting the Vatican, you can actually see the Pope – from afar, of course. Every Wednesday, the Pope holds an audience day. At that time, he'll give a short sermon of sorts and a prayer in six different languages. He'll also bless a few religious artifacts and a handful of sick visitors.
It's important to note that this event works on a first-come, first-serve basis. So if you want a front-row seat, try to get there early!
Check Out Where the Pope Lives at the Apostolic Palace
Most visitors to the Vatican are so busy checking out St. Peter's Basilica, the Sistine Chapel, and the Vatican Museums that they overlook the beautiful Apostolic Palace, the actual home of the Pope.
Technically, the Sistine Chapel and the Vatican Museums are part of the Apostolic Palace, but there's so much more to it than that. With approximately 1,000 rooms, it also includes administrative offices, guest rooms, and the Pope's residence.
Unfortunately, you can't visit most of the Apostolic Palace as a tourist. But you can still admire the gorgeous architecture from the outside! Take in the towering columns, the huge archways, and the skillfully carved sculptures.
Stop by the Sacred Grottos
You already know that Vatican City is the final resting place of St. Peter. But this small, yet mighty country is also where many past popes (91 of them, to be exact) have been buried as well. There are also a handful of notable church dignitaries buried there as well.
Please remember to be respectful during your time at the Sacred Grottos.
Stroll through the Vatican Gardens
More than half of the acreage of Vatican City is dedicated to the Vatican Gardens. In other words, you should definitely make time for these beautifully manicured lands while visiting the Vatican.
Despite the fact that the Vatican Gardens take up so much land, only a small percentage of visitors actually visit the gardens. Why do you ask?
First, it's because these gardens were only open to the public starting in 2014 – which is relatively recent in comparison to the other Vatican City attractions. But it's also because you have to book a tour that is guided by a member of the Vatican's official staff, which you can do on the Vatican Museum website.
While at the Vatican Gardens, there's so much to see! With thriving greenery, eye-catching sculptures, bubbling fountains, and even friendly turtles, you'll have a fantastic time in this urban oasis. And as if all that wasn't enough to convince you to visit this part of the Vatican, these lovely gardens are also a great place to escape the crowds!
Head Underground to See the Vatican Necropolis
The Vatican Necropolis is situated under the Vatican Gardens. This necropolis – or underground cemetery – acts as the final resting place for thousands of people for hundreds of years. Some estimates say that the Vatican Necropolis was used from 27 BC to 476 AD, which is over 500 years!
As usual, remember to be respectful during your time at the Vatican Necropolis.
Do you plan on visiting the Vatican? Let me know in the comments below!
---
Are you looking for more Europe travel inspiration? You'll love these posts too!
---
Disha Smith is the founder of Disha Discovers. She quit her job in 2017 to travel the world to explore new cultures and experience new adventures. She has since been to 95+ countries and counting and has lived in South Africa, Thailand, Croatia, and Australia. She has done all kinds of travel ranging from luxury to budget backpacking, and her mission is to inspire others to discover their own sense of adventure and to help them plan a life full of meaningful experiences through travel.