While some of us would love to be able to take full-length one- to two-week trips all the time, that's simply not possible. So to get the travel bug under control, we often make time for a few USA weekend trips. With these short trips, we rarely have to take time off, and we still get to have a little bit of adventure.
Plus, the United States is filled with tons of great places for weekend getaways. While you can opt for a big city like New York or Los Angeles, you can also pick somewhere that's a little quieter like Siesta Key, Florida or Savannah, Georgia. Regardless of where you go, USA weekend trips are always a great way to relax and unwind.
This post contains affiliate links to the products that I use and trust. This means that I might receive a small commission (at no extra cost to you) if you make a purchase using any of my links below. See full disclosure here.
25 Amazing USA Weekend Trips
---
I could go on and on about some pretty awesome destinations in the U.S. But for now, I've given you a list (in no particular order) of some of my favorite and some of the very best USA destinations for a short trip. Each destination offers something unique so I've got you covered on a few things to do in each place and exactly where to stay.
1. Los Angeles, California
As the land of surfers and celebrities, Los Angeles, California is one of the most popular US weekend trips – and for good reason. There are so many things you can knock out on a 2 day Los itinerary!
If you prefer the beach angle of Los Angeles, head to Venice, Santa Monica, and Malibu for all the sand and sunshine you could possibly desire. Spend your time enjoying the salty ocean air, wandering around the trendy shops, and dining at delicious restaurants.
If the celebrities are your main reason for visiting Los Angeles, there's really no better place to see the people who only seem to make an appearance on your TV. Be sure to check out the Hollywood Walk of Fame, request tickets for a live-taping of your favorite show, and head up to the celebrity-filled town of Malibu. If you want to do something a little more adventurous, consider tackling the hike to the famous Hollywood sign.
RELATED: The BEST 2 Day Los Angeles Itinerary: Epic Weekend in LA
2. Charleston, South Carolina
Charleston, South Carolina is one of the best weekend trips in the US. This adorable, historic town is filled with culture, character, and history.
Between the Antebellum architecture lining the streets and horse-drawn carriages meandering through the city, you can almost feel as if you've been transported to the past. Check out the historic houses around the Battery and venture towards the most colorful stretch of Charleston, Rainbow Row. If you really want to dive into history, head to the Fort Sumter National Monument to visit the place where the Civil War started.
If you're looking to dive into the culture and character of Charleston, start with the food scene. Charleston, South Carolina is starting to establish its name as one of the best foodie cities in the country, making it one of the best USA weekend trips too. Be sure to stop at the Charleston Farmer's Market, not just for fresh produce and delicious food, but also for local art, blooming flowers, and amazing souvenirs.
Before visiting, be sure to read my weekend guide to Charleston! It covers the best areas to stay in, exactly what to do, and more.
3. Nashville, Tennessee
Nashville, Tennessee is easily the best US weekend trip for country music lovers. While you can, of course, experience all of the up-and-coming country music by bar-hopping along Broadway, there's a lot of country music history to learn about in Tennessee's capital city as well.
To start your tour of country music, head to the Ryman Auditorium, the original location of the Grand Ole Opry, and learn how this venue worked to popularize the country music genre. Then, head to the famous Grand Ole Opry to see all the country music memorabilia you could ever desire. Then, wrap up your country music history tour by spending some time at the Country Music Hall of Fame.
Don't forget to read my weekend in Nashville itinerary! It covers everything in detail so you can plan the perfect getaway there.
4. New York City, New York
As the most populous city in the US, New York City is packed to the brim, not only with people but with things to do! While your two days in New York City might be one of the most packed USA weekend trips possible, it'll likely also be one of the most memorable.
While you can't see everything that New York has to offer in just one weekend, there are quite a few things that you must do. Wander around Central Park, visit the Statue of Liberty, pay your respects at the National September 11 Memorial & Museum, check out the art at MoMA, head to the top of the Empire State Building, and wrap it all up by watching a Broadway show.
If you plan on visiting New York City during the holidays (which I highly recommend), here is an epic NYC Christmas bucket list that will tell you all the holiday and cheery things to do.
5. Oklahoma City, Oklahoma
It's rare that a Midwest town is acknowledged as one of the best USA weekend trips, which is truly a shame. The Midwest is full of gems that are worth a visit, including Oklahoma City, Oklahoma. As a fun mix between Western roots and an evolving big city feel, Oklahoma City is definitely a special place.
While in Oklahoma City, be sure to get the best of both of the worlds that this city has to offer. Admire the pieces in the Oklahoma City Museum of Art, then grab a meal at Cattlemen's Steakhouse. Dance the night away at one of the nightclubs in the Bricktown Entertainment District, then wake up the next morning and head to Myriad Botanical Gardens.
Check out my one day in Oklahoma City itinerary. It's a great foundation for your weekend trip to Oklahoma with important must-dos and places to eat.
RELATED: 12 Best Romantic Getaways in Oklahoma
6. Dallas, Texas
Similar to Oklahoma City, the dynamic city of Dallas, Texas is a combination of traditional cowboy and modern business. As a matter of fact, these two sides of the city sometimes overlap in the coolest ways.
One great example of this overlap is the Dallas Cattle Drive sculptures. Made of modern steel, you can often find visitors pretending to be cowboys herding this huge drove of cattle. Besides this singular art inspiration, you can also test your horseback riding skills at the Texas Horse Park, ride on the McKinney Avenue Trolley, and stop and smell the flowers at the Dallas Arboretum.
RELATED: Best Weekend Trips in Texas: 13 Perfect Locations!
7. New Orleans, Louisiana
Due to the mix of cultural influences, New Orleans is one of the coolest cities in the country. If you're looking to experience the culture of another country without actually leaving the country, New Orleans is a great place to do so.
No matter when you visit New Orleans, you can devour as many powder sugar-coated beignets as you would and pretend to be in a small French town as you wander around the French Quarter. But the more immersive culture comes to life during Mardi Gras. This Carnival-like celebration is filled with music, dancing, masks, and just overall excitement.
8. Atlanta, Georgia
Atlanta, Georgia is one of those cities with something for everyone, making it one of the best USA weekend trips. Whether you're into history, nature, art, or food, Atlanta has something for you. Also, Atlanta is the perfect place for a weekend getaway with your special someone because there are so many romantic things for couples to do too!
For the history lovers, Martin Luther King, Jr. left his marks all over this bustling city, from his childhood home to Ebenezer Baptist Church to the Martin Luther King, Jr. National Monument. As for nature lovers, head to Piedmont Park or venture out to Stone Mountain Park. For the artists, the High Museum of Art should keep you entertained for hours. And for the foodies, there are fantastic restaurants all around the city, but don't forget to stop by the World of Coca-Cola or spend the evening at a rooftop bar.
9. Las Vegas, Nevada
Also known as Sin City, Las Vegas is a city of indulgences. From packed nightclubs to thrilling casinos, Las Vegas is a one-of-a-kind city.
Pretty much everything you could want to see or do in Vegas has been crowded onto The Strip. With the towering high-rise hotels, huge billboards, and bright lights, The Strip can be a little overwhelming at first. Then, you'll learn to sink into the rhythm of the city. Head indoors for shopping or gambling to escape the hot desert heat, only leaving the cool comfort of the air conditioning to change venues or venture to one of the famous Las Vegas buffets.
RELATED: 21 Awesome Free Things to Do in Vegas
10. Chicago, Illinois
Commonly referred to as the Windy City, Chicago has much more to offer than a bold breeze. This Illinois city has all the things you'd expect a major city to have – including towering skyscrapers, throngs of people, and fantastic restaurants – and so much more.
If there's just one thing you have to do in Chicago, it's paying a visit to The Bean. Located in Millennium Park, thousands of people visit this metallic sculpture every single day. In addition to The Bean, you can also catch the best views of the city from Promontory Point, see your favorite animals at the Lincoln Park Zoo, and spend some time at the famous Buckingham Fountain.
11. Miami, Florida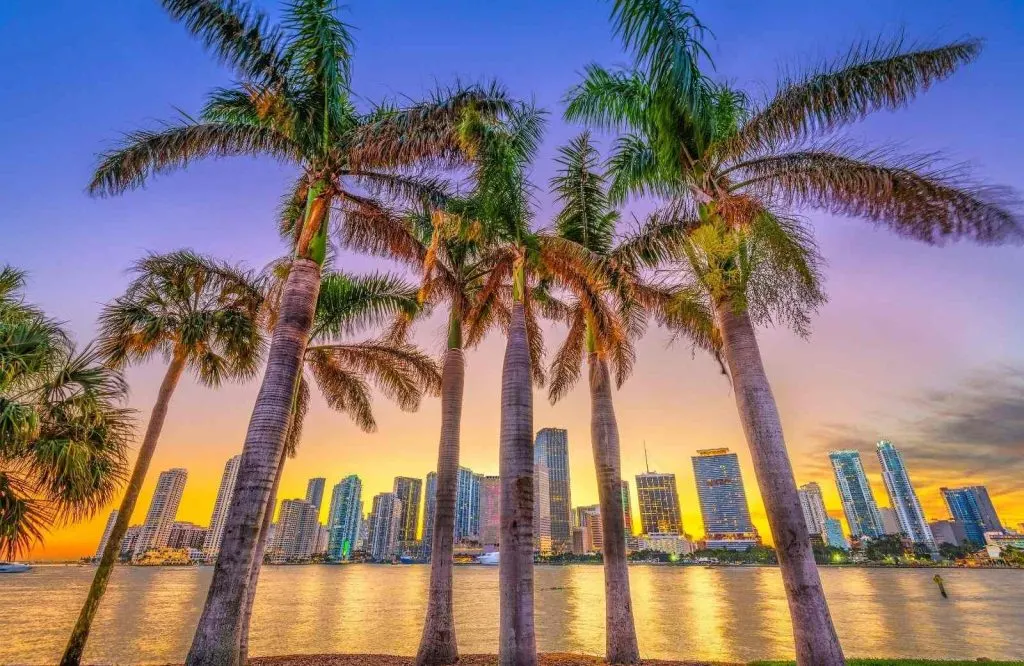 Miami, Florida is known primarily for two things: beach and culture. Honestly what more could you ask for from one of your USA weekend trips?
South Beach is the center of Miami's beach scene. You can easily spend a day lounging on the golden sand and taking a dip in the turquoise water before heading to Espanola Way for some food. As for Miami's culture scene, it's no question that the hub is Little Havana. Dance to Latin music, play dominos with locals, and delight in a cup of authentic Cuban coffee.
If you happen to be pressed for time, here's an epic one day in Miami guide that covers all of the must-sees and dos!
12. Seattle, Washington
This gem in the Pacific Northwest known as Seattle is unfairly primarily known for its cloudy weather. As the coffee capital of the country and a booming city, Seattle is one of the best USA weekend trips.
Ever since Starbucks opened its first location in Pike's Place Market in 1971, Seattle has embraced its new reputation as the coffee capital of the country (second only to its reputation of overcast weather). You can actually visit the first Starbucks location and the rest of the Pike's Place Market during your time in Seattle. Besides the original Starbucks, you can also check out the iconic Space Needle, stare in awe as you walk around Chihuly Garden and Glass, and dine on the fresh seafood at Ivar's.
13. Savannah, Georgia
Compared to cities like New York, Los Angeles, and Chicago, Savannah, Georgia is one of the smallest cities on this list. In other words, it is one of the quietest USA weekend getaways on this list, which is perfect if you're looking to escape the hustle and bustle of life.
The quiet of Savannah is only aided by its great, yet calming attractions. Head to Forsyth Park for a picnic or relaxing day in nature, take a cruise on the Savannah River or even venture a little out of the town for a beach day on Tybee Island.
RELATED: 11 Prettiest Towns in Georgia for Your Next Getaway
14. Washington D.C.
As the capital city of the United States, Washington D.C. is packed with marks of the country's history. That said, somehow Washington D.C. has avoided the stuffy air associated with history and instead made it quite interesting and exciting through its monuments and museums.
Honestly, you could spend an entire weekend in Washington D.C. just checking out the monuments and museums. The Washington Monument, the Lincoln Memorial, and all the memorials lining the beautiful Tidal Basin are must-sees. As for the museums, head to the National Mall for the Smithsonian National Museum of National History, National Gallery of Art, the National Museum of African American History and Culture, and many more.
RELATED: Best Getaways on the East Coast: 12 Spectacular Destinations!
15. Boston, Massachusetts
For history lovers, Boston, Massachusetts should certainly be on the top of their lists of USA weekend trips. Home to hundreds of historic brick buildings and the first subway system in the United States, there's history literally everywhere you turn in Boston.
There is a slew of things to do and places to see to continue your Boston history experience. Stop by the Paul Revere House, check out the Bunker Hill Monument, stroll around Faneuil Hall Marketplace, and tackle the Freedom Trail.
RELATED: New England Road Trip Itinerary: 10 Days Exploring the Northeastern US
16. Siesta Key, Florida
Situated just off the coast of Sarasota, Florida, Siesta Key is a hidden island paradise. It's one of the best USA weekend trips for sun, sand, and relaxation.
Pretty much all of the best things to do in Siesta Key revolve around going to one of the beaches: Siesta Beach, Turtle Beach, and Crescent Beach. If you'd like to intersperse something a little different during your getaway, you can also go shopping or take a boat out on the water.
17. Kansas City, Missouri
The metropolis known as Kansas City is actually split into Kansas City, Kansas, and Kansas City, Missouri. There's quite a rivalry between the two sides of Kansas City, and while both have their perks, I recommend Kansas City, Missouri.
There's such a wide array of things to do in Kansas City, Missouri that you'll be able to stay entertained regardless of your interests. If you're a music aficionado, you'll have to stop at the American Jazz Museum. If you're a sports fan, you'll definitely want to catch an MLB game at Kauffman Stadium. And if you like to visit some of the world's weirdest museums, Kansas City has quite a few for you, including the Arabia Steamboat Museum, the Money Museum, and the National Museum of Toys and Miniatures.
18. Sedona, Arizona
Sedona is one of the best USA weekend trips for hikers. With its bright red rocks and well-maintained trails, you'll have a fantastic time in this Arizona city.
A few of the best Sedona hikes include the Devil's Bridge Trail, the Cathedral Rock Trail, and the Courthouse Butte Loop. But if you're looking to switching things up a bit, you can also visit the Church of the Holy Cross, slip down the natural waterslide at Slide Rock State Park, and wander around the creative area known as the Tlaquepaque Arts and Crafts Village.
RELATED: The Perfect 10-Day Southwest USA Road Trip
19. Little Rock, Arkansas
Little Rock is one of the most underrated USA weekend trips. And as Arkansas' capital city, it's packed with things to do. You can pay a visit to the Arkansas State Capitol, wander around the River Market District, stop and smell the flowers at the Witt Stephens Jr. Central Arkansas Nature Center, and read a book at the William J. Clinton Presidential Library.
And if you find yourself with a little extra time, I highly recommend making the one-hour drive to Hot Springs National Park and the surrounding town. With bubbling hot springs, beautiful lakes, and stunning hiking trails, there are so many things to do in Hot Springs, Arkansas.
20. Gulf Shores, Alabama
When most people think of beachy USA weekend trips, they think of places like California and Florida. But the little town of Gulf Shores, Alabama is a lovely beach destination that has managed to fly under the radar.
Situated on the Gulf of Mexico, Gulf Shores, Alabama is filled with beautiful beaches, tasty restaurants, and lovely shopping. While there, you can soak up the sun at Gulf State Park, wander around the boutique stores at The Wharf, and even say hello to the animals at the Alabama Gulf Coast Zoo.
21. Salt Lake City, Utah
As the capital of Utah, Salt Lake City is one of the most visited destinations in the state. Salt Lake City has a reputation that almost entirely revolves around the Church of Jesus Christ of the Latter-day Saints. And while you can visit lovely sights like Temple Square and the Mormon Tabernacle Choir, there's so much more to Salt Lake City than its religious affiliation.
While in this beautiful Utah city, you can also visit the Great Salt Lake, pop by the gorgeous Red Butte Garden, and take a stroll in Liberty Park. But one of the coolest things to do in Salt Lake City is to pay a visit to the Bonneville Salt Flats. Situated just an hour and a half away from the city center, these 3,000 acres of hardened salt look like an otherworldly landscape.
22. Denver, Colorado
Also known as the Mile High City thanks to its high altitude, Denver, Colorado is one of the best USA weekend trips. This bustling city has everything from amazing hikes to fantastic concert venues to historic buildings to fabulous restaurants.
During your time in Denver, you'll find loads of things to do. If you like music, you'll want to catch a show at the breathtaking Red Rocks Amphitheater. If you'd prefer to be more active, you should consider hiking a 14er – also known as mountain peaks that are over 14,000 feet high. Or if you're simply looking for a scrumptious plate of food, head to the many eateries at the renovated Union Station.
RELATED: Best Winter Getaways in Colorado: 18 Epic Locations!
23. Raleigh, North Carolina
There are quite a few amazing places to visit in North Carolina, and the capital city of Raleigh is one of them.
Raleigh boasts an alluring combination of nature, science, history, and culture. While in town, you can take a leisurely stroll along the Neuse River Trail, visit the North Carolina Museum of Natural Science, stop by the North Carolina State Capitol, and even take a tour of the Videri Chocolate Factory.
And as an added bonus, Raleigh isn't far from quite a few lovely destinations, including Charlotte, Wilmington, and Wrightsville Beach. In other words, you'll have plenty of day trip destinations to choose from as well.
24. Portland, Maine
Like its name twin of Portland, Oregon, Portland, Maine boasts a cool vibe, a slew of tasty restaurants, and a ridiculous number of breweries. One of the best ways to enjoy this popular Maine city is by simply finding and popping into all of the newest trendy spots.
There are a few attractions in Portland, Maine that aren't shops, restaurants, or live music venues. You can take a stroll around the Old Port, hop on a ferry to visit Peaks Island, and check out the Portland Head Light.
RELATED: 11 Perfect Romantic Getaways in New England
25. Portland, Oregon
Portland, Oregon is best summed up by the city's tagline: "Keep Portland Weird." And you should definitely embrace Portland's oddities during your time in town. You can wander around the massive Powell's City of Books, try the one-of-a-kind treats from Voodoo Doughnuts, and even explore the underground network of catacombs called the Shanghai Tunnels.
And while weirdness is one of the city's main highlights, Portland also boasts quite a bit of natural beauty as well. You can admire the gorgeous 620-foot Multnomah Falls, stroll through the flowers at the International Rose Test Garden, and relax at the calming Portland Japanese Garden.
What are your favorite USA weekend trips? Let me know in the comments below!
---
Are you looking for more USA weekend trips? You'll love these posts too!
The BEST 2 Day Los Angeles Itinerary: Epic Weekend in LA
20 Bucket List Places to Visit in the US
NYC Christmas Bucket List: 20 Festive Things to Do in NYC
One Day in Oklahoma City: Discover the Best of OKC in 1 Day
16 of the Most Beautiful Islands in the USA
Best Beaches in the USA: 16 Breathtaking Shorelines!
14 Underrated Destinations in the USA You Should Visit Now
---
Disha Smith is the founder of Disha Discovers. She quit her job in 2017 to travel the world to explore new cultures and experience new adventures. She has since been to 95+ countries and counting and has lived in South Africa, Thailand, Croatia, and Australia. She has done all kinds of travel ranging from luxury to budget backpacking, and her mission is to inspire others to discover their own sense of adventure and to help them plan a life full of meaningful experiences through travel.