In case you didn't know, Charleston is one of the coolest cities to visit in the United States right now. I've been visiting this charming city since I was a kid and it's actually one of my favorite destinations in all of the USA. With its historic downtown, elegant cobblestone streets, and world-class food, plan a weekend in Charleston so you can see for yourself what all the hype is about. I'm certain you'll fall in love with it too!
There are so many noteworthy attractions in Charleston that it can be a bit overwhelming. Luckily for you, I've created an itinerary for the ultimate weekend in Charleston, South Carolina so you can stop at everything you'd like to see! I've also included some helpful tips at the bottom of this post so you can have the best getaway in this East Coast gem.
And if you're visiting Charleston and you're interested in going on a haunted tour, I've got you covered! I've written a post about the best haunted tours in Charleston that you can read here.
This post contains affiliate links to the products that I use and trust. This means that I might receive a small commission (at no extra cost to you) if you make a purchase using any of my links below. See full disclosure here.
The Ultimate Weekend in Charleston, South Carolina
---
Charleston, South Carolina is the perfect place to go for a weekend getaway. With its interesting history, thriving food scene, and southern charm, there's something for everyone!
During your three days in Charleston, there are loads of things to do. You can take a lovely carriage ride, learn the history behind the Old Slave Mart Museum, and even spend a day at the beach!
Here is your ultimate weekend in Charleston guide!
Day 1 of Your Weekend in Charleston
To start off your weekend in Charleston, you'll hit up the city's main attractions. After all, there's a reason these sites are the most visited ones!
For this first day in Charleston, I highly recommend taking a guided tour. Charleston is filled with small nooks and crannies that are worth exploring and only locals tend to know about these. I still feel like I discover a new part of the city every time I visit.
Here are the best tours in Charleston that cover everything worth seeing!
Stroll Along The Battery
The Battery is arguably the most popular attraction in all of Charleston. This lovely area is flanked by beautiful homes on one side and Charleston Harbor on the other. It's a great place for a morning stroll and the perfect way to start day 1 of your weekend in Charleston.
You'll want to start your walk at White Point Garden. And while you can certainly walk the full one mile in one go, you'll want to make a few stops and a couple of detours along the way. And I've got at all mapped out for day 1 of your itinerary. Your first detour: a horse-drawn carriage ride!
Take a Horse-Drawn Carriage Ride
A stroll along The Battery will give you a quick glimpse of the historic architecture of Charleston, but a horse-drawn carriage ride through the city will take you past many more! And along the ride, you'll be able to simply sit back, listen to the clopping horse hoofs, and take in the lovely scenery.
While riding through this downtown residential area of Charleston, you'll pass dozens of historic homes. And, thanks to your guide, you'll learn about the important history behind them.
You can even go inside many of these houses, including the Nathaniel Russell House, the Heyward-Washington House, and the Williams Mansion, so make sure to take note of them while on your amazing carriage ride.
Snap a Few Pictures at Rainbow Row
The pastel-colored houses known as Rainbow Row appeal to Instagram influencers and history buffs alike. These homes were first built in the 1740s but eventually fell into ruin after the Civil War. They didn't embrace their pastel-colored beauty until the 1930s and 1940s.
Today, these historic houses are some of the most aesthetically pleasing buildings in town – and a must-see stop during your weekend in Charleston.
Pay a Visit to Historic Charleston City Market
The famous Charleston City Market actually got its start as a place where slaves would go to purchase food. As a matter of fact, it was known as the "Slave Market." And while this history has certainly left its mark, the Charleston City Market is very different today.
There is so much to do at this historic market that people sometimes spend an entire day there, although you really only need an hour or so to explore all the highlights. You can devour some food, search for souvenirs, and even take a tour.
But the main highlight of the Charleston City Market is the basket ladies. Over 50 women (and men) weave together baskets using local bulrush. This tradition has West African origins and has been passed down for generations. It's the perfect cultural souvenir to remember your trip to Charleston!
Peruse the Pieces at the Gibbes Museum of Art
While the Gibbes Museum of Art isn't one of the most famous Charleston attractions, it's definitely worth a visit. With over 10,000 pieces, it's an art lover's dream!
The Gibbes Museum of Art features works from artists all across the globe. But a large chunk of the museum is dedicated to talented artists with ties to Charleston, including William Melton Halsey, Henrietta Johnson, and Mary Roberts.
Catch the Sunset by the Pineapple Fountain in Ravenel Waterfront Park
You'll actually have to loop back around to reach the famous pineapple fountain at Ravenel Waterfront Park. But don't worry, it's just half a mile away from the Gibbes Museum of Art, so you won't have to go far!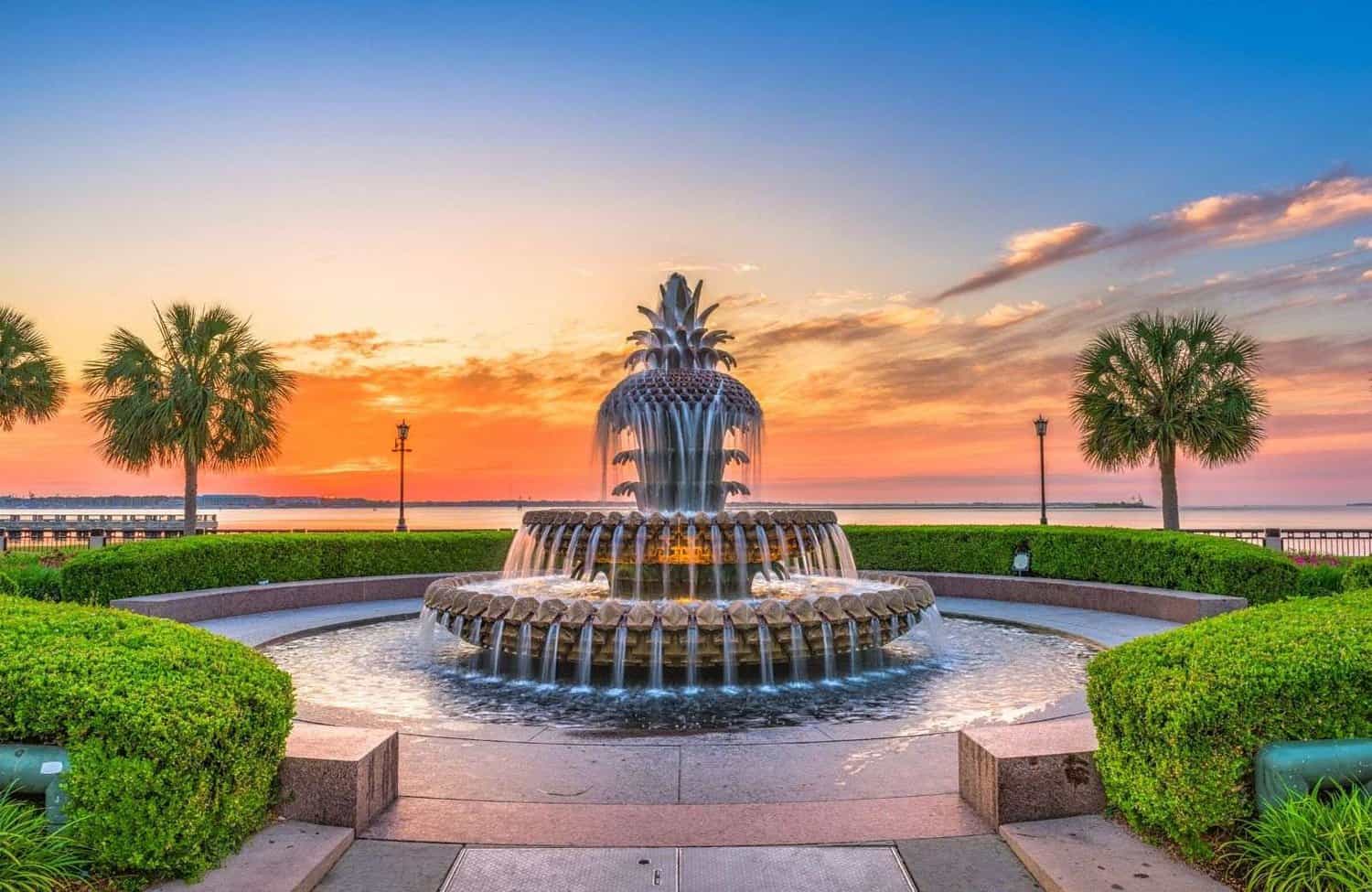 The best time to visit this picture-perfect pineapple fountain is at sunset. As a matter of fact, it's one of the best places to see the sunset in all of Charleston! So take a seat, snap a few photos, and simply enjoy the lovely scenery.
Dine in Downtown Charleston
A weekend in Charleston wouldn't be complete without taking some time to enjoy the food scene. Recently, Charleston has developed a reputation as one of the best up-and-coming foodie cities in America.
There are so many delicious restaurants packed into this city – and luckily for you, most of them are located in downtown Charleston, which means you won't have to wander far from Ravenel Waterfront Park. A few local recommendations include Maison, Chez Nous, Magnolias, FIG, and Husk.
I've never had a bad meal in Charleston. Honestly, one of my absolute favorite things to do in Charleston is to just eat. There are so many amazing restaurants here that you won't even get to sample a tiny fraction of them during your weekend getaway.
In order to taste as many local dishes as possible, you should definitely do a food tour. This way, you'll leave Charleston with a good idea of the local food scene.
Day 2 of Your Weekend in Charleston
Since so many of the best things to do in Charleston are in the same area, you'll be in the same place for both day 1 and day 2 of your weekend in Charleston. But rather than focusing on the cute and Instagram-worthy sites, day 2 dedicates time to some of the more difficult, historic aspects of the city.
Since the history can be quite heavy at times, be sure to take it as slow as you need to. For that reason, I've made day 2's itinerary a little lighter than day 1's schedule.
Visit the Old Exchange and Provost Dungeon
The Old Exchange and Provost Dungeon has held quite a few functions over the past 250 years. Built in 1771, this building served as a British military prison during the American Revolution, a spot to entertain city leaders, and the location of public slave auctions. Today, it is a museum run by the Daughters of the American Revolution.
During your visit to the Old Exchange and Provost Dungeon, you should definitely take a tour. By learning about the history of this particular building, you'll start to unravel the complex history of Charleston.
Learn the History Behind the Old Slave Mart Museum
Most historic places in Charleston have ties to slavery. It was ingrained so deeply in people's everyday lives that you'd be hard-pressed to find a place without some connection to slavery. But one of the clearest connections to slavery in Charleston is the Old Slave Mart Museum.
During your time at the previous stop, the Old Exchange and Provost Dungeon, you'll likely learn that the building was used for slave auctions until 1856. But that year, public slave auctions became prohibited, so they were taken indoors to places like the Old Slave Mart Museum, which was known as Ryan's Auction Mart at the time.
Today, you can visit the Old Slave Mart Museum to learn about the horrific slave trade. You can even hear the stories of many of the individuals who were forced to work as slaves in Charleston.
Pop Into the Charleston Museum
Your next stop during your weekend in Charleston is the Charleston Museum. While it is your second museum of the day, you won't regret your visit.
Founded in 1773 and opened to the public in 1824, the Charleston Museum is actually one of the oldest museums in the United States. As a matter of fact, it is often called "America's first museum."
There are many different exhibits at the Charleston Museum that cover a wide array of topics – from historic weaponry to fossils to vintage fashions. There are also exhibits on specific historical events, including the American Revolutionary War, the U.S. slave trade, and the American Civil War.
But the most popular things to see at the Charleston Museum are the two historic houses: the Heyward-Washington House and the Joseph Manigault House. These two antebellum houses show how both the extremely wealthy and the enslaved African Americans lived during that time period.
Stop at Fort Sumter National Monument
Over the course of day 2 of your weekend in Charleston, you'll slowly progress through the city's history. While stops like the Old Exchange and Provost Dungeon and the Old Slave Mart Museum focus on the growth and evolution of the American slave trade, Fort Sumter National Monument signals the end of it.
Fort Sumter is most well-known for being the site of the Battle of Fort Sumter in 1861, also known as the start of the American Civil War. It's this war that eventually led to the abolishment of slavery in the United States four years later.
While Fort Sumter is recognized for its role in the American Civil War, this fort was also used during the War of 1812, the Spanish-American War, World War I, and World War II. And you can learn all about this fort's impact when you pay a visit to this national monument.
But Fort Sumter isn't that easy to reach. After reading up about the fort at the Fort Sumter Visitor Education Center, you'll need to hop aboard a ferry at the nearby Liberty Square waterfront. (If you're lucky, you might even see some dolphins on the ride over!) Then, when you finally reach the fort, you can check out the fort ruins, wander through the exhibits, and take an informative tour.
Dine in Downtown Charleston
At the end of your heavy, history-filled day, a delicious meal is exactly what the doctor ordered. Plus, there's a very good chance that you'll want to explore more of Charleston's thriving food scene.
Despite the fact that slavery was abolished in the United States over 150 years ago, the African American community still faces discrimination today.
But you can do your part to lessen this discrimination in your everyday life, including by doing something as simple as eating at a black-owned restaurant.
A couple of the best black-owned restaurants near downtown Charleston include Graft Wine Shop & Bar and Bertha's Kitchen.
Day 3 of Your Weekend in Charleston
Day 3 of your weekend in Charleston is a fun-filled beach day! While you could definitely go to Sullivan's Island – which is filled with golden shores and tasty restaurants – I like Folly Beach just a smidge more. Mainly because there's an amazing place I like to stop at called the Pineapple Hut that serves the best pineapple whips!
Make a Stop at Angel Oak
On your way to Folly Beach, I highly recommend making a stop at Angel Oak. This massive tree is estimated to be 300 to 400 years old!
And at 65 feet high, that's not too hard to believe. As a matter of fact, it's considered to be the largest live oak tree to the east of the Mississippi River.
While at Angel Oak, you'll simply want to stroll around this huge, historic tree and take loads of pictures. Trust me — Angel Oak is super cool!
Spend the Day at Folly Beach
After your stop at Angel Oak, you can continue on to Folly Beach. There are so many things to do along these sandy shores, so you'll easily be able to stay entertained all day.
First and foremost, there are all of the typical beach activities. You can swim, suntan, and build a sandcastle. Or if you'd like to be a little more adventurous, you can surf, stand up paddleboard, and kayak.
Then, there are all the non-beach-related things to do. You can shop at one of the surf shops or purchase some local treasures from the Folly Beach Farmers Market.
And if you're spending the whole day at Folly Beach, you'll need to grab food – and maybe a drink too – at some point. Luckily for you, Folly Beach is packed with fantastic local restaurants and bars – and they're all just a short walk away from the sandy shores. A few local favorites include The Crab Shack, LowLife Bar, Pier 101, and Surf Bar.
How to Get to Charleston
---
Getting to Charleston is fairly stress-free and there are a few different ways in which you can get there.
You can fly into Charleston International Airport which is about a 20-25 minute drive from the downtown area depending on the traffic.
You might be able to snag cheaper flights by flying in and out of Columbia Metropolitan Airport which is located in Columbia, the capital of South Carolina. Keep in mind that you'll have to rent a car to get to Charleston from Columbia. The distance between the two cities is around 115 miles.
Alternatively, you can road trip to Charleston from anywhere in the States. Then, you don't have to worry about renting a car while you're there.
How to Get Around Charleston
---
Even though downtown Charleston is walkable, you'll still need to rent a car. Not everything on this weekend in Charleston itinerary is located in the downtown area. For example, Folly Beach is located around 12 miles from downtown Charleston.
Honestly, when visiting downtown Charleston, I recommend taking an Uber there or parking your car in a parking garage somewhere nearby. That way, you won't have to worry about driving your car from Point A to B and looking for parking which can add up in time and cost. Then, you can grab your car for any sightseeing outside of the downtown area.
You can also use DASH — the Charleston Downtown Area Shuttle. These are buses that are free for everyone to use around the downtown area.
If you're not keen on driving around the Holy City, you can certainly take an Uber to wherever you want to go. Keep in mind that this will be costly.
Best Time to Visit Charleston
---
Charleston is a gorgeous destination all year round. But, visiting Charleston in Spring is pretty magical. The weather is perfect and you'll get to see the magnolias blooming.
Keep in mind that summer is hot and humid. I've been a few times from June to August and I felt like I was melting even in the shade. Unless you plan on hanging out at the beach all day, I don't recommend visiting during the summer.
Fall is also a beautiful time of the year to visit because the weather will be cooler. And, Charleston also happens to be a magical Christmas getaway in the USA too!
Long story short — I would definitely avoid visiting in the summer.
Where to Stay in Charleston
---
Charleston is brimming with adorable bed and breakfasts, cottages, hotels, apartments, and more to stay at when you visit.
The historic downtown area is the best area to stay in especially if you're visiting for the first time. You'll be in a central location and within walking distance to coffee shops, restaurants, attractions, and more. Plus, you'll find luxury, mid-range, and budget options here.
Another fun area to stay in is South of Broad. This is another famous neighborhood where lots of authors and creatives lived.
NoMo, North of Morrison, is another great area to stay in. You'll find lots of cafes, breweries, and coffee shops in the area.
Finally, if you're traveling with kids and you're looking for a quieter area to stay in, Mount Pleasant will be perfect for you. This is one of Charleston's biggest suburbs and you'll find plenty of family-friendly things to do here.
Search all hotels in Charleston | Search for condos/apartments/lofts in Charleston
What are you most excited to do during your ultimate weekend in Charleston, South Carolina? Let me know in the comments below!
---
Are you looking for more USA travel inspiration? You'll love these posts too!
---
Disha Smith is the founder of Disha Discovers. She quit her job in 2017 to travel the world to explore new cultures and experience new adventures. She has since been to 95+ countries and counting and has lived in South Africa, Thailand, Croatia, and Australia. She has done all kinds of travel ranging from luxury to budget backpacking, and her mission is to inspire others to discover their own sense of adventure and to help them plan a life full of meaningful experiences through travel.