Dallas is one of the most visited destinations in the entire state of Texas – which is saying something since Texas boasts a whopping 268,820 square miles of land! This city is brimming with world-class restaurants and loads of fun things to do. But if you need a little break from this exciting and lively city, there are several exciting day trips from Dallas to keep you entertained.
You can shop at the world's largest flea market in Canton, go hiking in Beavers Bend State Park, explore the thriving metropolis of Houston, take a refreshing dip at Blue Hole Regional Park, and more.
After living in the Dallas area for a bit, it was fun to leave the big city behind for a few hours to see more of the real Texas. If you're looking for the best day trips from Dallas, this guide has you covered!
Here are 16 of the best day trips from Dallas listed in order of the time it takes to get there. If you're looking for a longer break from the Big D, be sure to read my post about the best weekend trips in Texas.
This post contains affiliate links to the products that I use and trust. This means that I might receive a small commission (at no extra cost to you) if you make a purchase using any of my links below. See full disclosure here.
16 Day Trips from Dallas, Texas
---
1. Terrell
30 minutes from Dallas
If you don't feel like driving too far, consider going on a day trip to Terrell, Texas. This little Western-inspired town is filled with history!
While in town, you can wander around the No. 1 British Flying Training School Museum, drive past the many historic houses, and spend some time at the Terrell Heritage Museum.
And when you need a little break for lunch, you'll definitely want to stop by the Ham Orchards. While at the peach-focused eatery, you'll definitely want to order the famous peach pulled pork sandwich before continuing on with the rest of your day.
2. Fort Worth
40 minutes from Dallas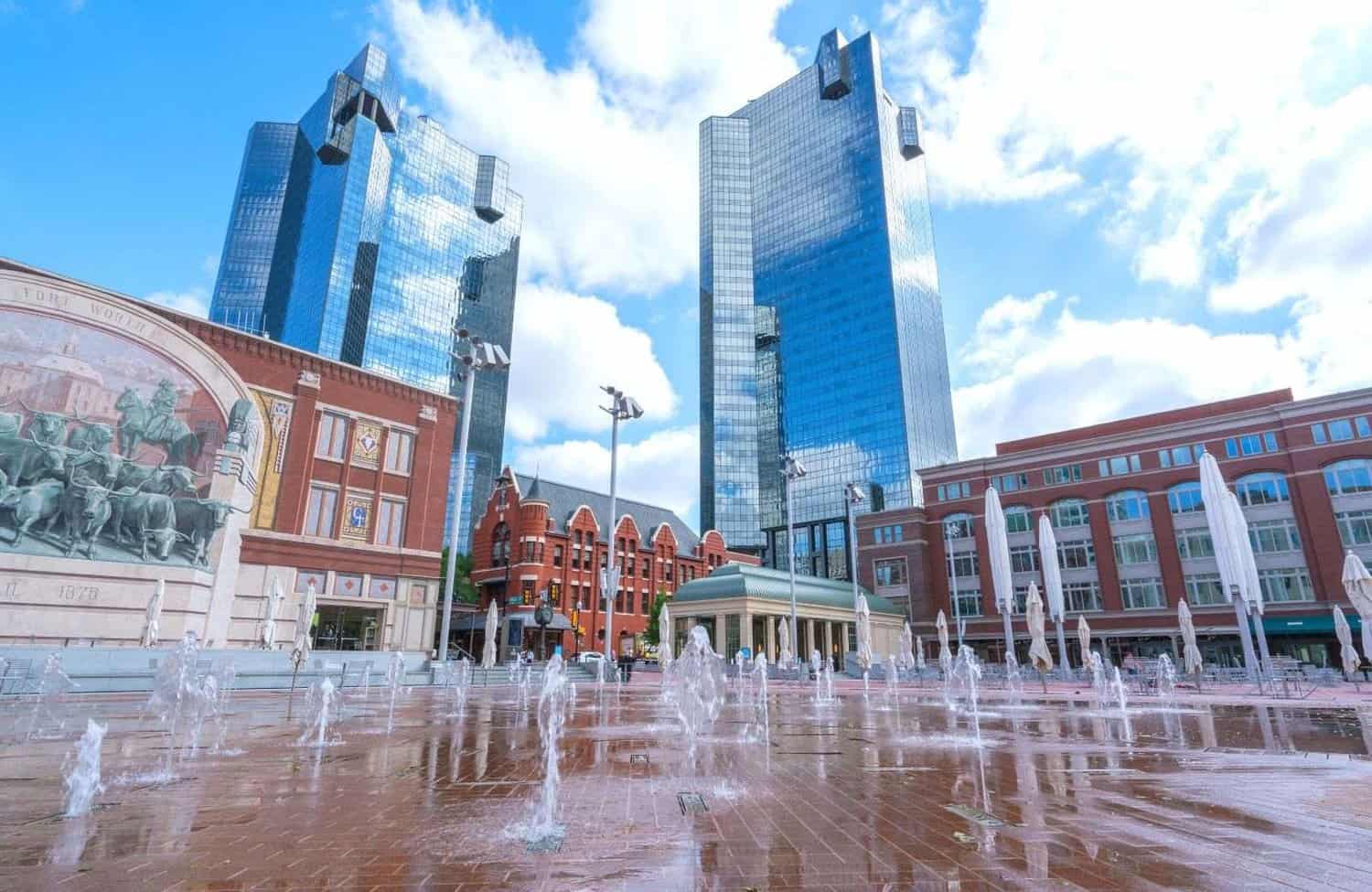 Dallas and Fort Worth are often clumped together, even though they have two completely different atmospheres. Consequently, Fort Worth tends to be overlooked as a possible day trip from Dallas.
Fort Worth is absolutely packed with cowboy-related attractions – and the Fort Worth Stockyards are at the heart of it. Once a historic cattle district, these stockyards are now the main location for rodeos, shootout shows, and even country music concerts.
And if you'd like to take a break from all of the cowboy-related things to do, you can explore the Fort Worth Botanic Gardens or stroll around Sundance Square.
3. Canton
1 hour from Dallas
If your getaway aligns with the weekend prior to the first Monday of the month, you'll definitely want to spend a day in the little town of Canton, Texas.
Although this tiny city has a population of around 3,500 people, it is home to First Monday Trade Days, which is supposedly the world's largest and oldest flea market! This market has been operating for over 150 years and has over 5,000 vendors. You can find everything you're looking for from antiques to home décor to clothes.
So, what are you waiting for? Grab some cash and get ready to put your bargaining skills to good use!
RELATED: Best Weekend Trips in Texas: 13 Perfect Locations!
4. Waco
1 hour and 30 minutes from Dallas
To non-Texans, Waco isn't really known as a place for tourists to visit, let alone a place that's worth a day trip from Dallas.
It's more well-known as the home of Baylor University or as the scene of the Branch Davidian siege. And that's a shame because Waco is filled with amazing things to do.
Magnolia Market is probably the most popular thing to do in Waco, Texas, thanks to the popular HGTV show, Fixer Upper. The stars of Fixer Upper, Chip and Joanna Gaines get basically all of their home décor materials from this market.
Besides that, you can also stop by the Dr. Pepper Museum, explore the Waco Mammoths National Monument, and pop into one of the city's many distilleries.
5. Wichita Falls
2 hours from Dallas
Wichita Falls has quite a unique claim to fame. It is home to "the world's littlest skyscraper." Officially known as the Newby-McMahon Building, this little skyscraper is only 40 feet tall! Now, the building keeps its hilarious superlative as a running joke.
But, the tiny skyscraper is far from all that Wichita Falls has to offer. As a matter of fact, this town is one of the best day trips from Dallas for nature lovers!
First, you'll want to visit Lucy Park. This lovely spot boasts a duck pond, a large swimming pool, disc golf, quite a few playgrounds, and amazing manmade waterfalls. It's the perfect place to soak up some sun, breathe in the fresh air, and maybe have a little picnic.
And if you're looking for another nature-focused activity, you won't want to miss out on River Bend Nature Center. The 18 acres of this nature center are filled with lush plants, blooming flowers, and even friendly butterflies!
6. Jefferson
2 hours and 40 minutes from Dallas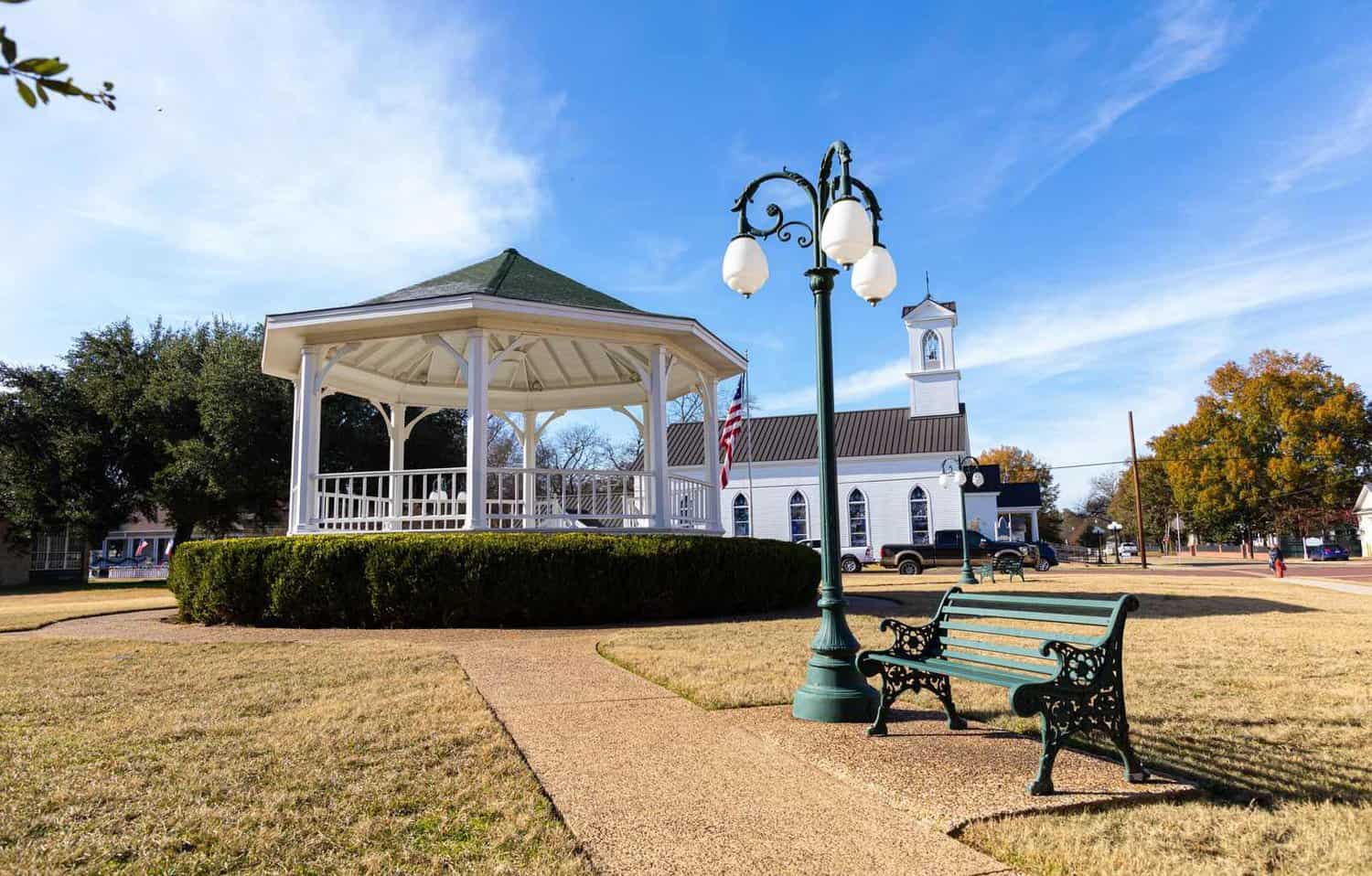 If you love history, Jefferson is definitely one of the best day trips from Dallas for you. As a matter of fact, this town has over 100 historical landmarks!
While in town, you can stop by the Jefferson Historic Museum, pop into the Jefferson General Store, and hop aboard the Jefferson Historic Railway to ride through the Big Cypress Bayou.
Jefferson also has a reputation for having a handful of haunted buildings. If this sounds like something that you'd want to learn more about, you can take a ghost tour or drive around the haunted houses of The Grove.
7. Davy Crockett National Forest
2 hours and 40 minutes from Dallas
Most of the closest day trips from Dallas are adorable small towns. Davy Crockett National Forest offers a little something different with its striking natural landscapes.
While at Davy Crockett National Forest, you can spend your time doing just about any nature-based activity that you have in mind. You can swim, boat, or fish in Ratcliff Lake.
Or if you'd like to stay dry, you can hike, horseback ride, hunt, or picnic. Simply put, it's the perfect place to escape the concrete jungle and simply enjoy the beauty of nature.
8. Beavers Bend State Park
3 hours from Dallas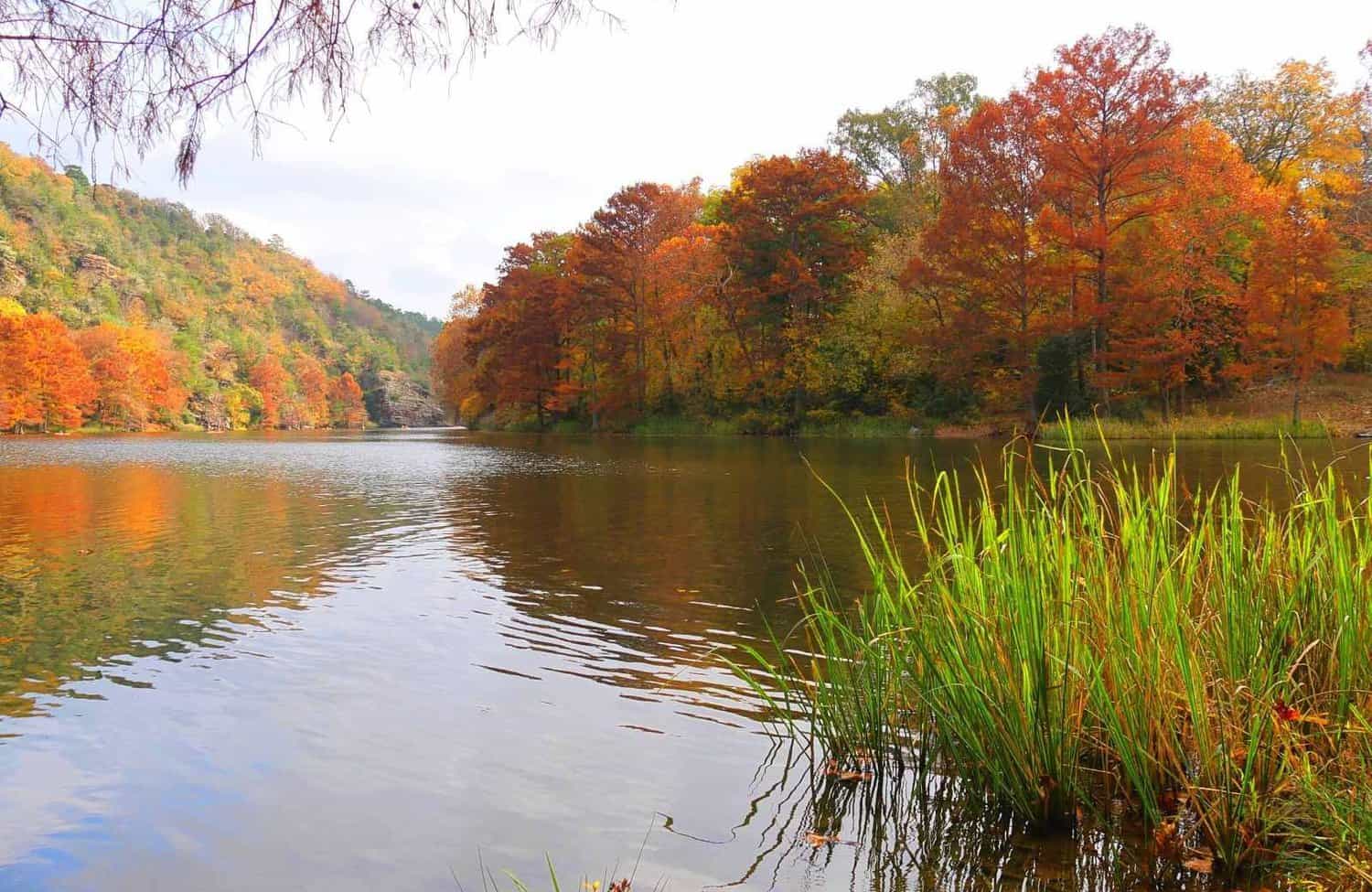 Beavers Bend State Park is actually one of the few day trips from Dallas that crosses state lines, as it is in Oklahoma. Situated in the little town of Broken Bow, Beavers Bend State Park is a great place for an escape into nature.
There are loads of things to do in this lush natural landscape. You can take a boat out onto the shimmering Broken Bow Lake, hike one of the half a dozen paths, or even zip line over the treetops!
If you'd like to extend your stay, you can book a night or two at the Hidden Hills Cabins, one of the most romantic getaways in Oklahoma.
RELATED: 12 Best Romantic Getaways in Oklahoma
9. Oklahoma City
3 hours from Dallas
Oklahoma City – sometimes known as simply OKC – is an exciting mix between Western roots and an evolving big city feel. It's the perfect place to leave the Texas state borders and still embrace the fun of a concrete jungle. I lived in Oklahoma City for four years and it's a unique city packed with amazing restaurants and things to do.
There is such a wide variety of activities for you to enjoy during your day trip to Oklahoma City. You can peruse the works in the Oklahoma City Museum of Art, stop and smell the flowers at the Myriad Botanical Gardens, and stay out late at one of the many nightclubs in the Bricktown Entertainment District.
10. Austin
3 hours from Dallas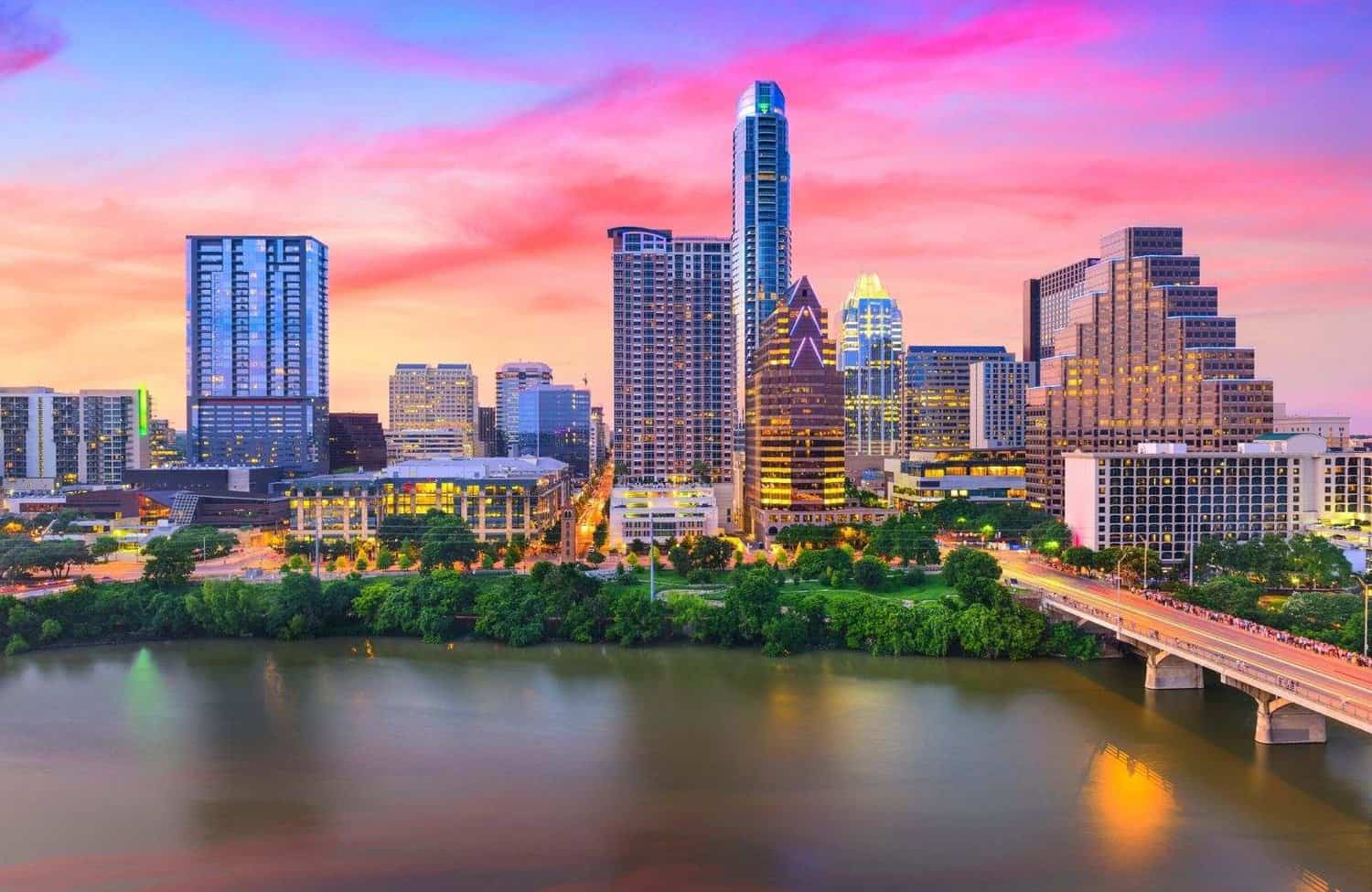 While sometimes people hope that their day trips will take them somewhere completely different from their home base, others just want a similar variation. If the latter sounds like you, consider making Austin one of your day trips from Dallas.
As Texas' capital city, Austin is packed with things to do, which means there's something for everyone! History buffs and political aficionados will want to pay a visit to the Texas State Capital.
Art fans will definitely want to peruse the works at Blanton Museum of Art and stop by the music-filled Sixth Street.
And nature lovers will definitely enjoy the Zilker Metropolitan Park and the famous Austin bats under Congress Bridge.
11. Houston
3 hours and 20 minutes from Dallas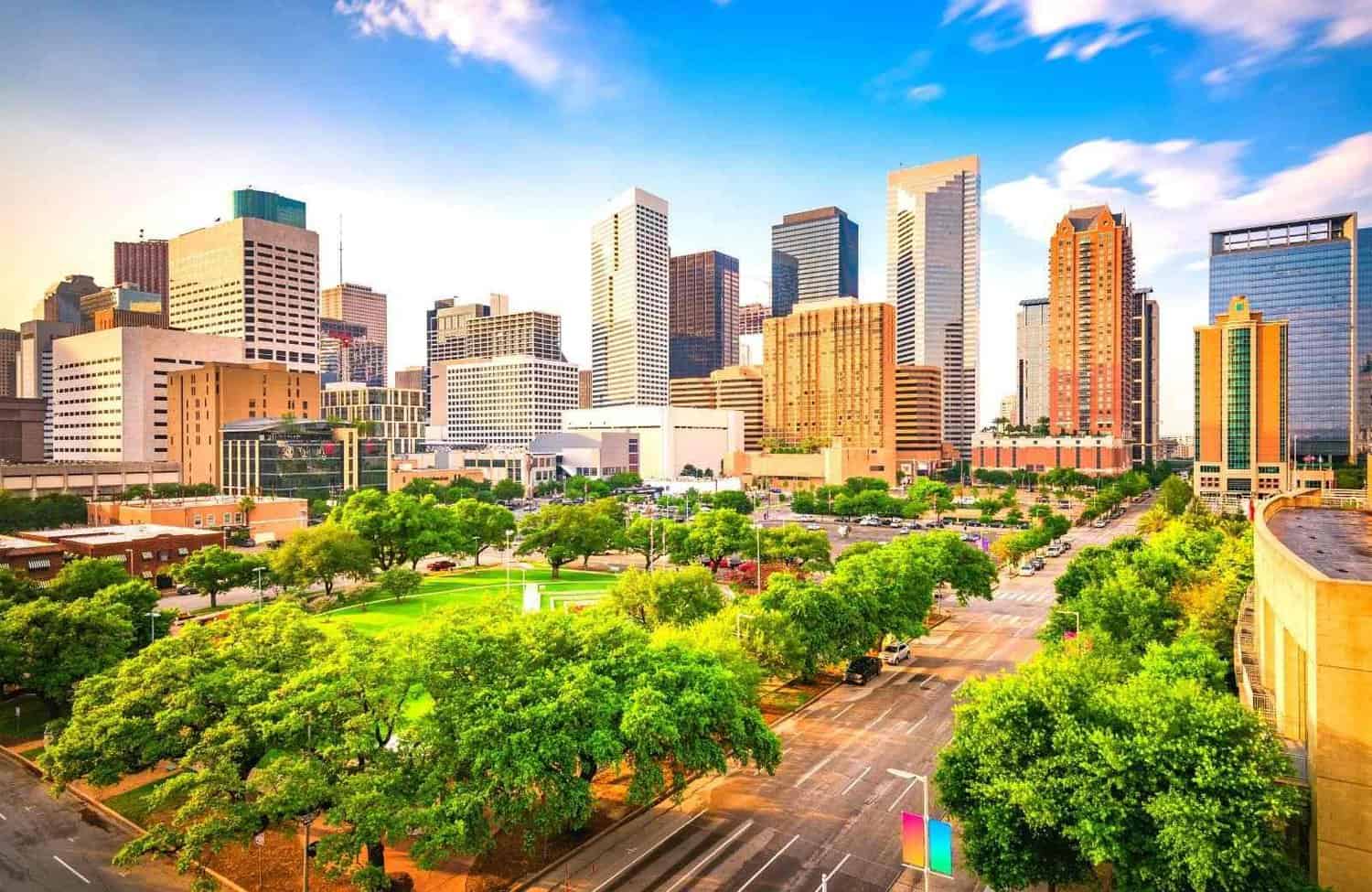 Houston holds the title of being the biggest city in Texas – where everything is already bigger. And as expected, this huge city has loads of things for you to do, making it one of the best day trips from Dallas.
Houston has quite a few noteworthy museums within its borders, including the Museum of Fine Arts and the Museum of Natural Science.
But, you'll definitely want to take a few breaks from exploring the museums as well. You can check out the Houston Livestock Show and Rodeo, picnic in Hermon Park, or explore the miles of underground tunnels below the city.
12. Bastrop State Park
3 hours and 20 minutes from Dallas
The primary draw of Bastrop State Park is the Lost Pines. The Lost Pines are a group of loblolly pine woodlands that are approximately 18,000 years old. In order to survive for so long, these massive pine trees have adapted, surviving on minimal water and clay-like sand. In other words, there are no other trees quite like The Lost Pines
While you'll likely spend most of your time exploring the Lost Pines, there are other activities that you can do as well. You can fish in Lake Mina, hike the gorgeous trails, and maybe extend your trip to spend a night at a historic cabin.
13. Blue Hole Regional Park
3 hours and 40 minutes from Dallas
Texas is home to quite a few noteworthy swimming holes, and Blue Hole Regional Park is one of them. As a matter of fact, this particular one is known as one of the top swimming holes in the whole state!
While the sparkling blue swimming hole is the main highlight of Blue Hole Regional Park, there is are many more activities in this 126-acre park. You can go for a hike, play a few games of sand volleyball, test out your basketball skills, or simply enjoy a lovely little picnic.
Do know that you can only swim at the Blue Hole Regional Park swimming hole during the designated swimming season, which is from May to September.
14. Luckenbach
4 hours from Dallas
With timeworn storefronts, an operating saloon, country music floating through the streets, and cowboy hats atop everyone's heads, Luckenbach looks like it was pulled straight out of an old Western movie. In other words, it's definitely worth the lengthy four-hour drive from the heart of Dallas.
There are a few different things that you need to do to experience the one-of-a-kind atmosphere of Luckenbach. Other than listening to absurd amounts of live country music all around town, you can head Luckenbach Texas General Store, Bar, and Dance Fall for everything else. While at this iconic establishment, you can sip on a beer, do a little dancing, and purchase a unique souvenir to remember your time in this special Texan town.
15. Fredericksburg
4 hours from Dallas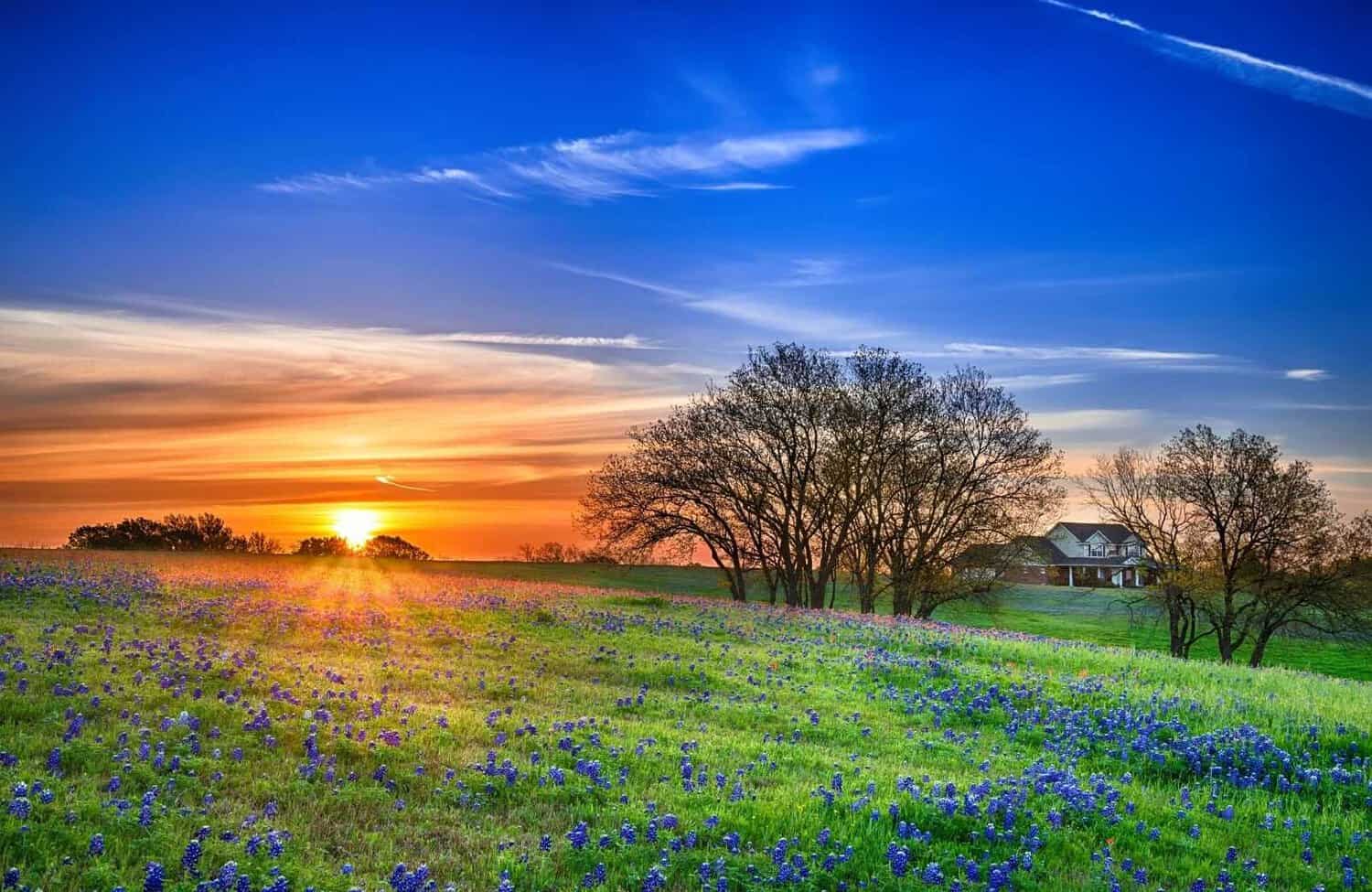 4 hours from Dallas
With a population of just over 10,000 people, Fredericksburg boasts that irresistible small-town vibe. During your time in Fredericksburg, the best thing to do is just slow down and enjoy the little things.
You can leisurely stroll through the town, savor freshly picked peaches from one of the many vineyards, and admire the blooming flowers at Wildseed Farms. If you're a history buff, you can visit the National Museum of the Pacific War, the most popular attraction in town.
Keep in mind that you'll be barely scratching the surface of everything that Fredericksburg has to offer if you only do the things listed above. Although Fredericksburg has a small-town vibe, there are plenty of things to do here. I highly recommend exploring the ins and outs of this charming town and this guide on the best things to do in Fredericksburg will give you more ideas.
16. Galveston
4 hours and 15 minutes from Dallas
So far on this list of day trips from Dallas, I've included quirky small towns, thriving big cities, and beautiful state parks. Yet the city of Galveston offers something different from the rest of the destinations on this list.
Galveston, Texas is one of the premier beach destinations in the state. So if you looking for some fun in the sun and some salt in the air, you won't regret making the trip to this coastal city.
A few of the best beaches in town include Galveston Beach, Poretto Beach, and Stewart Beach. But if you'd like to take a break from the sun and sand, there are other activities for you to do as well. You can wander around the historic district known as The Strand, visit the castle-like 1892 Bishop's Palace, and stop and smell the flowers at the Moody Gardens.
Do you have any suggestions to add to this list of the best day trips from Dallas, Texas? Let me know in the comments below!
---
Are you looking for more USA travel inspiration? You'll love these posts too!
11 Perfect Romantic Getaways in New England
16 of the Most Beautiful Islands in the USA
Best Beaches in the USA: 16 Breathtaking Shorelines!
Weekend Trip to Nashville: 16 Fun Things to Do in Music City
Best Getaways on the East Coast: 12 Spectacular Locations!
20 Bucket List Places to Visit in the US
14 Best Day Trips From Las Vegas (Worth the Trip!)
USA Weekend Trips: 16 Amazing Destinations for a Short Getaway
---