Auckland is one of the main hubs of New Zealand's North Island. And while this bustling city is filled with things to do – like enjoying the views from Sky Tower and heading to the top of Mount Eden – many visitors prefer to use it as a home base and do some fun day trips from Auckland.
I've been to Auckland several times and it steals my heart more and more with each visit. There are so many nooks and crannies to explore in Auckland so don't leave the city right away. Rather, head out on these day trips when you feel like you've completed your Auckland bucket list items.
The day trips from Auckland are absolutely amazing and I can fully attest that each one of them is worth doing. Most of them are nature-based, including the beach town of Piha, the hot spring-dotted Coromandel Peninsula, and the glowworm-filled Waimoto Caves. But there are also a few non-nature-focused surprises, including the little village of Hobbiton and the foodie-focused town of Matakana.
Simply put, if you're looking for the best day trips from Auckland, New Zealand, this guide has you covered. Trust me when I say this — this is going to be an adventure of a lifetime! New Zealand is truly one of the dreamiest countries in the world and the countryside is simply stunning. Be prepared to be left speechless by the beauty.
This post contains affiliate links to the products that I use and trust. This means that I might receive a small commission (at no extra cost to you) if you make a purchase using any of my links below. See full disclosure here.
Day Trips From Auckland Map
---
Day Trips from Auckland Tips
---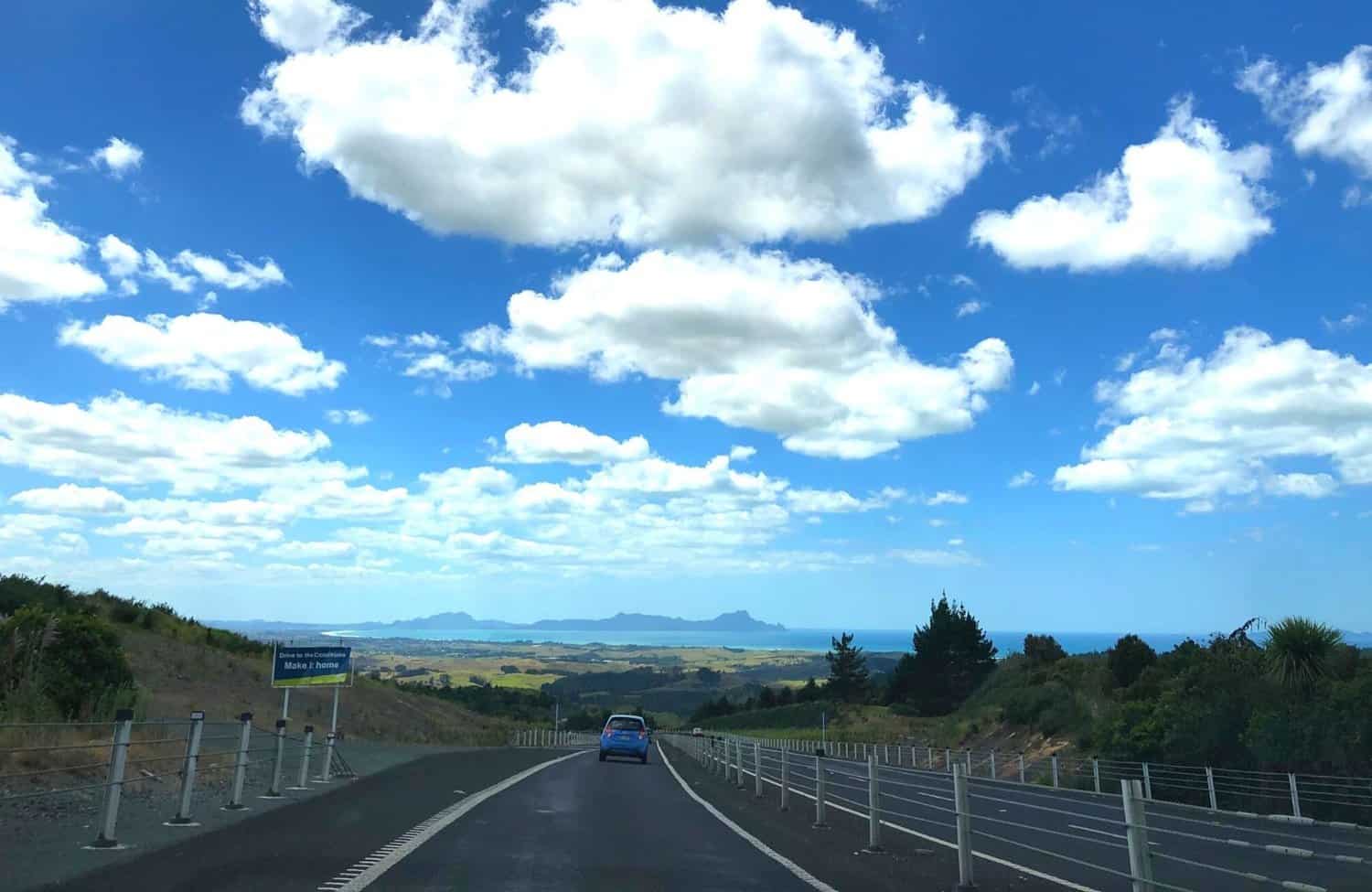 Before we get started, let's go over some important tips so you can plan the best day trips from Auckland.
First, the best way to tackle these day trips is by renting a car. This will allow you the freedom and flexibility to take detours and discover other areas along the way. What I loved most about road tripping around New Zealand was driving down any road that looked interesting whether or not it was on the way. These unplanned bypaths led me to some pretty gorgeous places that I didn't even put on my list of places to see.
Second, don't be afraid to turn these day trips into longer trips. If one of these places seems especially interesting to you, consider spending longer than a day there. If you don't have your hotels booked in Auckland, just jump in the car and go. If you stumble upon one of these destinations and you end up loving it, spend the night and explore the area more. If not, you can keep going to the next destination on my list or come back to Auckland.
12 Amazing Day Trips from Auckland, New Zealand
---
Rangitoto Island
25 minutes from Auckland (by ferry)
Getting to Rangitoto Island from Auckland is relatively easy. Once you make it to the ferry ports in Auckland's Central Business District, you'll be just a short 25-minute boat ride away!
Rangitoto Island is actually the youngest volcanic island in New Zealand – which is saying something, considering there are about 50 volcanic islands in the nearby Auckland volcanic field. The volcano of Rangitoto Island is considered to be dormant, but not extinct, since its last eruption was just 600 years ago.
The most popular thing to do on Rangitoto Island is to hike to the peak by following the Rangitoto Summit Walk. When you reach the top, you'll be rewarded with views of Rangitoto Island, the Pacific Ocean, and Auckland. As an added bonus, be sure to keep an eye out for the lava caves and lava tubes along the way!
If you'd prefer to stick to the water, you can keep an eye out for seabirds, do a little kayaking, or perhaps try your hand at fishing.
Waiheke Island
30 minutes from Auckland (by ferry)
Like Rangitoto Island, it's not hard to get to Waiheke Island either. You just have to hop aboard a ferry in Auckland's Central Business District. And after a relaxing 30-minute journey, you'll reach Waiheke Island.
Waiheke Island is known for an interesting array of things: wineries, beaches, and oysters. And during your day trip from Auckland, you can make time to enjoy all three!
If you're hoping to visit the wineries, Wild on Waiheke and Cable Bay Vineyards are a couple of crowd favorites. If you'd prefer to spend most of your time at the beach, you'll love Oneroa Beach and Onetangi Beach. And if you're looking to try locally caught oysters, you can head to Oyster Inn.
Waitakere Ranges & Piha
40 minutes from Auckland
Waitakere Ranges, officially known as Waitakere Ranges Regional Park, takes up most of the town of Piha. So these two lovely day trips from Auckland can easily be combined into one!
Piha and Waitakere Ranges are known primarily for Piha Beach. Not only is this breathtaking shoreline one of the best surf spots in the country, but it's also an amazing black sand beach!
And if all that wasn't already picture-perfect enough, Piha Beach is also home to a lovely rock formation known as Lion Rock. If you're feeling extra adventurous, you can hike the short, yet steep trail to the top. But if you're hoping to visit a more under-the-radar beach, Bethells Beach and Whites Beach may be more up your alley.
On the other hand, if you're looking for something other than sandy shorelines, Piha and the Waitakere Ranges boast their fair share of waterfalls. Kitekite Falls, Karekare Falls, and Fairy Falls are all gorgeous cascades that are worth your time.
Shakespear Regional Park
50 minutes from Auckland
There are quite a few regional parks near Auckland, but Shakespear Regional Park is one of the most stunning. In other words, it's one of the best day trips from Auckland.
Shakespear Regional Park has something for both nature lovers and history buffs. Nature lovers can relax on the sunny Shakespear Beach, go for a swim in Te Haruhi Bay, say hello to the animals at the Tiritiri Matangi Island wildlife sanctuary, and stroll along with one of the many walking trails. History buffs, on the other hand, can visit an old Maori settlement and take a peek at a World War II gun emplacement.
Matakana
50 minutes from Auckland
While most day trips from Auckland, New Zealand revolve around nature, Matakana offers a little something different. This little Northern New Zealand town is the perfect day trip for foodies!
One of the most famous things to do in Matakana is to visit the Matakana Village Farmers Market. Every Saturday morning, dozens of vendors come out and sell fabulous locally made and grown treats. You can find everything from fresh fruits to blooming flowers to flavorful wines. There are even a few vendors that serve prepared foods, so you can enjoy a farm-fresh lunch at this amazing farmer's market as well.
If you don't get the chance to visit on a Saturday, there are other foodie activities for you to enjoy. You can visit the New Zealand Honey Centre, Plume Winery, Charlie's Gelato Garden, and Puhoi Cheese Factory for some awesome food-filled adventures.
Hobbiton
2 hours from Auckland
If you're looking for one of the most unique day trips from Auckland, look no further than Hobbiton! According to J. R. R. Tolkien's fictional The Lord of the Rings, Hobbiton is the home of the hobbit characters, including Bilbo Baggins and Frodo Baggins – and now you can visit this one-of-a-kind village too!
The real-life little town of Hobbiton was originally created as a temporary movie set for The Lord of the Rings trilogy before being rebuilt as a permanent village for the spinoff, The Hobbiton trilogy. In other words, if you thought the movies were a great representation of J. R. R. Tolkien's books, you'll love a visit to Hobbiton.
While in Hobbiton, you can take a guided tour of the area, pop into the little hobbit holes, and even try The Lord of the Rings-inspired drinks at the Green Dragon Inn.
Waitomo Caves
2 hours and 15 minutes from Auckland
The Waitomo Caves are easily one of the coolest day trips from Auckland. While the network of underground limestone caves is already worth the two-hour journey, there is something else that makes the Waimoto Caves extra special: the glowworms.
That's right! The Waimoto Caves are home to naturally bioluminescent creatures called glowworms. So while you're in what should be a pitch-black cave, sections of it are lit up by the turquoise shine of these glowworms.
To explore these caves, the most popular option is to take a calming boat tour. But if you're looking for something a little more adrenaline-inducing, you can also go black water rafting, which is essentially whitewater rafting, but in the dark.
Coromandel Peninsula
2 hours and 30 minutes from Auckland
Everyone knows that the best vacation destinations are the places that the locals go to vacation. And the Coromandel Peninsula fits the bill! This lovely peninsula on the opposite side of the Firth of Thames is one of the most beloved getaway destinations for Aucklanders.
One of the most popular things to do in the Coromandel Peninsula is to take a ride aboard the Driving Creek Railway. While on this adorable red and green train, you'll make your way through the native forest while learning about the local pottery industry. And when you reach the end of your ride, you'll be at the Eyefull Tower Lookout, where you can admire stunning views of the island.
And that's far from all the Coromandel Peninsula has to offer. You can also hike to the top of The Pinnacles, relax in the hot springs of The Lost Geothermal Spa, soak in your own little hand-dug pool at Hot Water Beach, and kayak around the turquoise waters of Cathedral Cove.
With all of these things to do in the Coromandel Peninsula, you might need more than just a day trip from Auckland. If you have time to extend your stay at this hidden gem, I highly recommend it!
Rotorua
2 hours and 45 minutes from Auckland
The town of Rotorua, named after Lake Rotorua, is filled with hot springs. As a matter of fact, many visitors compare Rotorua to a natural spa.
The best place to experience these soothing hot springs is at the Waimangu Volcanic Valley. And this valley doesn't just have steaming hot springs – it's also home to the picture-perfect Pink and White Terraces. But if Waimangu Volcanic Valley isn't for you, the Wai-O-Tapu Geothermal Wonderland is also a great place to visit, with its hot springs and geysers.
But a natural spa experience in Rotorua wouldn't be complete without a mud bath at the Polynesian Spa. And after you're rejuvenating mud bath, you wash off in the Hell's Gate sulfur spa and then the mineral spring hot pools.
But if hot springs aren't your style, Rotorua is also a great place to learn about Maori culture. The Maori people are the native people of New Zealand. The best place to learn about these amazing people and their interesting culture is at the Whakarewarewa Geothermal Valley. While there, you can visit a living Maori village, admire traditional Maori art, and dine on traditional Maori food.
Taupo
3 hours and 15 minutes from Auckland
The highlight of Taupo is a stunning lake of the same name. The 238-square-mile Lake Taupo is actually the largest lake in New Zealand, and it sits in the Taupo volcano's caldera. While at Lake Taupo, you can enjoy just about any water sport you have in mind – from kayaking to waterskiing to white water rafting. And don't forget to stop by Lake Taupo's Huka Falls as well!
But not everything in Taupo revolves around the lake. You can also go white water rafting at Aratiatia Rapids, check out the Mine Bay Maori Rock Carvings, and take a stroll on the breathtaking Great Lake Walkway.
Bay of Islands
3 hours and 40 minutes from Auckland (by car and ferry)
Situated between Cape Brett and the Purerua Peninsula, the Bay of Islands is actually made up of the land surrounding the bay and the 144 islands within it! And between all of these little gems, there's so much to see and do.
The best way to see these islands is by heading to the water! Boating and kayaking are two great ways to do this. If you're not familiar with the area, I highly recommend taking a tour. And don't forget to snap a few pictures of the famous Hole in the Rock!
But while on land, there are quite a few things for you to see as well. You can visit the gorgeous 88-foot Rainbow Falls, soak in the Ngawha Springs geothermal hot pools, and check out the eye-catching glow worms of the Kawiti Caves.
If you're an adrenaline junkie, I definitely recommend skydiving with Skydive Bay of Islands. This is where I went skydiving for the first time and the views of the islands are beyond breathtaking!
Tongariro National Park
4 hours from Auckland
There aren't many national parks on New Zealand's North Island, but Tongariro National Park is one of the few. As a matter of fact, Tongariro National Park was New Zealand's first national park! And those are just a couple of the many reasons that it's worth the long journey from Auckland.
If you only have time to do one thing in Tongariro National Park, you should hike the Tongariro Crossing. This 12-mile hike takes you past lava fields, towering mountains, and teal lakes. But if you don't have time to tackle the entire trail, you can simply hike a portion of it.
Other than hiking the Tongariro Crossing, you can also ski down Mt. Ruapehu (which is an active volcano, if you need a little bit of an extra thrill), visit the 43-foot Tawhai Falls, or bike along Old Coach Road.
What are some of your favorite day trips from Auckland? Let me know in the comments below!
---
Are you looking for more Oceania travel inspiration? You'll love these posts too!
---
Disha Smith is the founder of Disha Discovers. She quit her job in 2017 to travel the world to explore new cultures and experience new adventures. She has since been to 95+ countries and counting and has lived in South Africa, Thailand, Croatia, and Australia. She has done all kinds of travel ranging from luxury to budget backpacking, and her mission is to inspire others to discover their own sense of adventure and to help them plan a life full of meaningful experiences through travel.