There's no doubt that Australia is a dreamy destination for travelers. It's home to beautiful landscapes, endless adventures, friendly people, and some dang good coffee! Plus, there are interesting and unique landmarks in Australia waiting to be discovered.
There are a few Australian landmarks that everyone knows about. After all, who doesn't want to take a picture at the Sydney Opera House, catch the sunrise at Uluru, and go scuba diving at the Great Barrier Reef?
But, there are so many other Australian landmarks that are worth your time! You can also see the beautiful rock structures known as the Twelve Apostles, catch a game at the Melbourne Cricket Grounds, climb to the top of the Sydney Harbour Bridge, and say hello to the animals on Kangaroo Island.
Here are 16 of the best landmarks in Australia! My list of Australian landmarks includes bucket-list destinations that are a must on any trip to Australia. This list is comprised of manmade landmarks, natural landmarks, and famous landmarks.
This post contains affiliate links to the products that I use and trust. This means that I might receive a small commission (at no extra cost to you) if you make a purchase using any of my links below. See full disclosure here.
Map of Landmarks in Australia
---
I've included a map of the landmarks below so you can easily see where they're located.
24 Landmarks in Australia
---
It was quite difficult to narrow this list down to sixteen of my favorite landmarks in Australia. So, I've included other amazing landmarks at the bottom of this post. They aren't as well-known as the ones I've included, but they're still worth a mention and visit.
Famous Landmarks in Australia
Sydney Opera House
By far the most famous landmark in Australia is the Sydney Opera House. This architectural wonder is located right on Sydney Harbour and serves as a classy artistic performance venue.
The story behind the Sydney Opera House is quite an interesting one. In 1956, a man named Joe Cahill started an international competition to see who could design the best opera house for Sydney.
Hundreds of entries were submitted from all around the world, but the winner ended up being an unknown Danish architect named Jørn Utzon.
A few years later, Utzon permanently made his mark when construction began on the Sydney Opera House in 1959.
And while many global landmarks are just nice to look at, you can actually spend a full day exploring everything about the Sydney Opera House. You can take a few pictures outside, go on a backstage tour, grab a drink from the Opera House bar, dine at the Bennelong Restaurant, and of course enjoy a fabulous show.
Uluru
Uluru is one of the coolest landmarks in Australia because it is both naturally beautiful and culturally important.
To get to this large sandstone formation, it's quite a trek. It's a whopping 208 miles away from the nearest large town, which is Alice Springs, so you really have to commit to taking a trip to Uluru. Luckily, this Australian natural landmark is worth the effort!
First, let's talk about the natural beauty of Uluru. This massive red rock is most beautiful at sunrise and sunset when the fiery colors in the sky highlight this awesome wonder.
But for the best views of Uluru, you'll want to tackle a hike, so you can see it from multiple perspectives. The Mala Walk is a crowd favorite.
And while the natural beauty of this sandstone wonder is amazing, it's the cultural aspect that makes it one of the best landmarks in Australia. Uluru is very important to the Aboriginal – specifically the Anangu – people.
It's actually tied to Tjukurpa, the Anangu's traditional laws, stories, and spirituality. You can see marks and carvings of Tjukurpa on Uluru, which is definitely a special sight to see.
Great Barrier Reef
To round out the three most famous landmarks in Australia, there's the Great Barrier Reef! As the world's largest coral reef system, the Great Barrier Reef covers a whopping 133,000 square miles! Obviously, you won't be able to explore this entire underwater world, but you can enjoy a sliver of it!
As you swim, snorkel, and scuba dive at the Great Barrier Reef, you'll be able to see loads of sea creatures. Turtles, whales, dolphins, dugongs, fish, and more all make their home in this extensive coral reef system.
If there's one specific part of the Great Barrier Reef that's an easily identifiable landmark, it's Heart Reef. This little heart-shaped section has actually become quite a popular proposal spot in recent years.
Bondi Beach
Bondi Beach is arguably the most famous beach in Australia. And since it's situated in Sydney, it's also one of the most easily accessible beaches for visitors.
Bondi Beach is an ideal place to spend a day on the beach. With the shining sun, golden sand, warm waters, and surfable waves, what more could you ask for?
There's even the fantastic Bondi Icebergs swimming pool, which is situated right on the ocean!
Whitehaven Beach, Whitsundays
While Whitehaven Beach isn't as easy to reach as Bondi Beach, it's definitely worth the effort. It's one of the most stunning beaches in Australia and photos don't do it justice.
It's actually one of the top beaches in the world and I promise you that your jaw will drop once you see it. Whitehaven Beach is a seven-kilometer (almost four and a half miles) stretch of powdery, white sand and crystal clear, turquoise waters.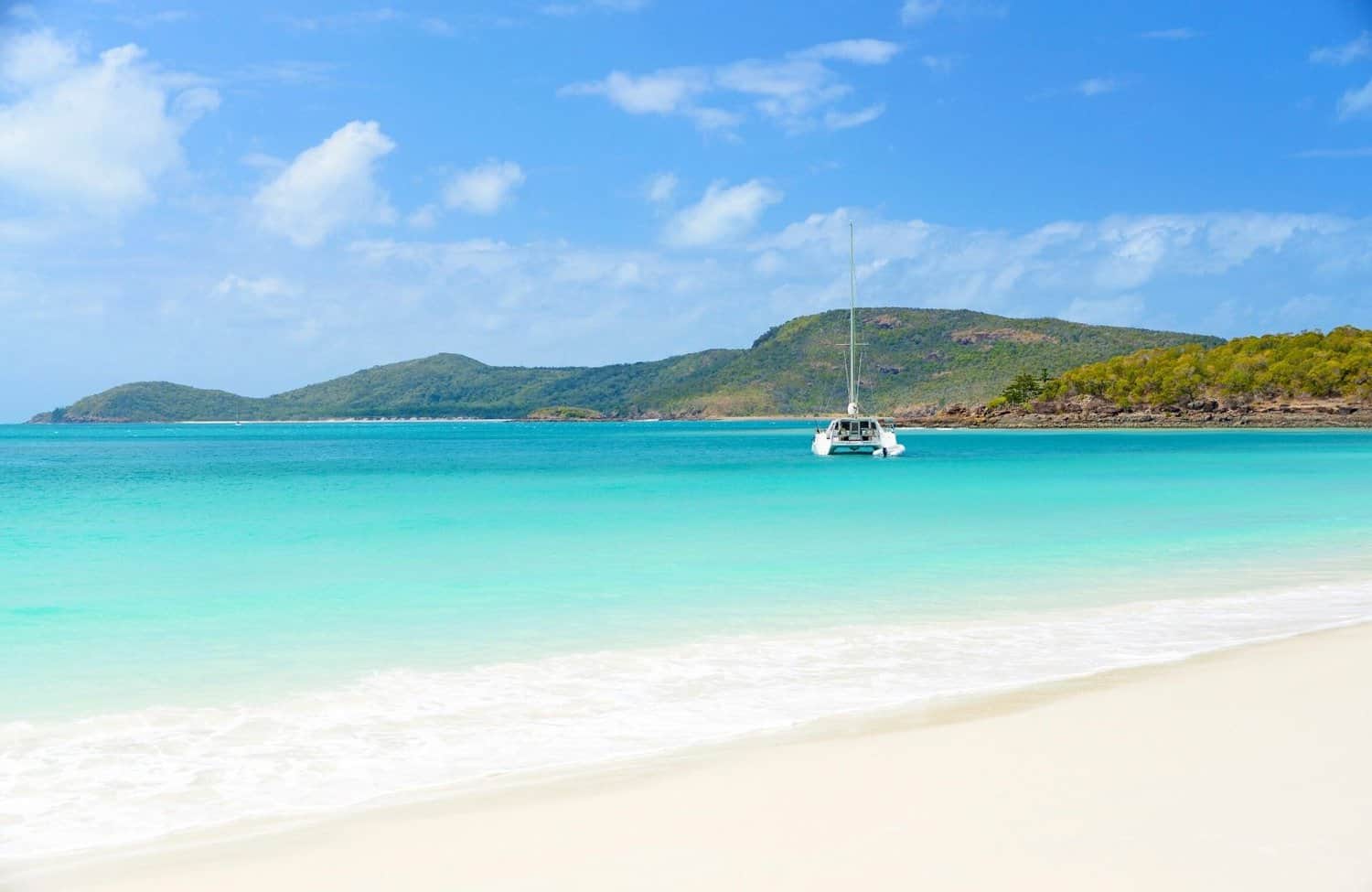 Since Whitehaven Beach is located on the Whitsundays Islands, you'll have to head to Arlie Beach or Hamilton Island first. From there, you can hop on a boat, seaplane, or helicopter to get to the Whitsundays.
At Whitehaven Beach, you can enjoy snorkeling, swimming, laying on the beach, walk along the shore, and whatever beach activities you like. One thing is for sure — you'll feel leaving content and relaxed.
Natural Landmarks in Australia
Kangaroo Island
Australia is arguably most famous for its wildlife, particularly its kangaroos and koalas. But since animals can't be landmarks, I've included a popular place to see Australia's animals instead.
Kangaroo Island is one of the largest Australian islands, and one-third of it is protected by nature preserves. This means that all of Australia's unique animals, including kangaroos, koalas, platypuses, wallabies, echidnas, and more, have a place to live. And if you're lucky, you'll be able to see them in their natural habitats!
Twelve Apostles
Situated on Australia's Great Ocean Road, the Twelve Apostles are a set of breathtaking rock formations. With their warm orange-brown limestone contrasting with the bright turquoise waters, it's a picture-perfect sight to see.
Originally, the Twelve Apostles did live up to their name, as there were once twelve rock formations. But over time, mother nature took its course, and now just eight of the Twelve Apostles are still standing.
Kakadu National Park
Within the nearly 8,000 square miles that make up Kakadu National Park, there is beautiful nature, thriving wildlife, and historic carvings. As the country's largest national park, it's no surprise to find out that it's also one of the coolest landmarks in Australia.
During your time at Kakadu National Park, you'll easily be able to stay entertained. If you're looking for cultural and historic sites, you'll want to head to Ubirr to see the historic Aboriginal rock art.
If you want to enjoy the beautiful natural scenery, you can swim at the Gunlom pool or start in awe at the 656-foot Jim Jim Falls.
Or if you'd prefer to see some of Kakadu National Park's wildlife, you can head out on one of the many walking trails or look for birds in the Mamukala wetlands.
Wave Rock
Just like there is a famous wave-esque rock in Arizona, USA, there is also one in Hyden, Australia, which is about four hours outside of Perth.
The Wave Rock of Hyden, Australia is 50 feet high and 360 feet long. The striated colors of the rock are what give it a unique, wave-like look. It's the perfect place to learn about the interesting geology and snap a few Instagram-worthy photos.
Bungle Bungle Range
The Bungle Bungle Range is arguably one of the coolest mountain ranges in the world, so it's no surprise that it's one of the most intriguing landmarks in Australia.
From the sky, the Bungle Bungle Range looks like a bunch of beehives, when in reality it's towering cone karst rock formations in sandstone.
And while the Aboriginal people have known about the Bungle Bungle Range for hundreds – if not thousands – of years, everyone else only found out about it in 1983!
The best way to experience the Bungle Bungle Range is by simply taking a short hike, such as the Domes Walk, through the unique natural wonder.
The Three Sisters
But, the Bungle Bungle Range isn't the only noteworthy mountain range in Australia. There's also the Blue Mountains' Three Sisters. In my opinion, the Three Sisters rock formation is one of the most underrated landmarks in Australia.
The Blue Mountains are actually a UNESCO World Heritage Site, but it's the Three Sisters specifically that draw most of the visitors. And this eye-catching rock formation has an interesting Aboriginal legend to go with it.
According to this legend, there were three sisters, Meehni, Wimlah, and Gunnedoo, who were part of the Katoomba tribe. These sisters fell in love with three brothers from the neighboring Nepean tribe, but marriage between these tribes was forbidden by law. The brothers obviously didn't support this law, so they decided to capture the sisters by force!
To prevent this and protect the sisters, a Katoomba witch doctor turned them into stone. After all, the brothers wouldn't be able to take them then! But before the witch doctor could reverse the spell, he was killed, and the sisters remained stuck in their stone form.
While at the Three Sisters, you can gape at the amazing views, learn the alternative legend, or even scale these towering mountains.
Daintree Rainforest
Daintree Rainforest is one of the best landmarks in Australia for a multitude of reasons. First, it's absolutely massive, with 460 square miles of thriving greenery. Second, since this natural landscape pushes all the way up to the Great Barrier Reef, it's the only place in the world where two UNESCO World Heritage Sites meet.
On top of all that, there are all of the extremely cool things to see in Daintree Rainforest, including some of the largest tree species in the world, thousands of butterflies, and even plants that glow in the dark!
During your time at Daintree Rainforest, you'll obviously want to see as much of this Australian as possible. To do so, you can make a start at the Daintree Discovery Center, cruise along the Daintree River, and take a tour of Mossman Gorge.
Cape Hillsborough Beach
Cape Hillsborough Beach, also known as Casuarina Beach, is a more recently discovered Australian landmark. It's recently become famous because this sandy shoreline doesn't just welcome humans and marine life. Wallabies and kangaroos like to hang out at Cape Hillsborough Beach as well!
These wallabies and kangaroos head to Cape Hillsborough Beach each morning at sunrise. They like to feed on the mangrove seed pods, seaweed, and coral sand dollars that the tide brings in. But since these adorable animals get there so early in the morning, you'll have to get there super early as well.
While you might be tempted to pet or feed these cute creatures, you need to remember that they are wild animals! For that reason, you should simply admire the wallabies and kangaroos from afar.
Rottnest Island
Any list of landmarks in Australia would be incomplete with Rottnest Island. Located off the shore of Perth in Western Australia, it's home to the adorable quokka. I'm sure you've seen them all over Instagram. If you haven't, they're adorable little marsupials that resemble wallabies.
Keep in mind that cars aren't allowed on Rottnest Island so you'll have to get around on a local bus or bicycle. Here, you can go snorkeling, swimming, and do a little hiking. And, you can't leave without taking a selfie with a quokka.
Wallaman Falls
Located in North Queensland, Wallaman Falls is a horsetail and cascade waterfall in Girringun National Park. It is encompassed by Stony Creek — a UNESCO World Heritage rainforest.
What's so impressive about Wallaman Falls is that it's the highest permanent single-drop waterfall in Australia with a drop of 268 meters (879 feet).
You don't have to do any hiking at all to see this breathtaking waterfall. You can park your car in the parking lot and walk a few feet to the lookout point. Wallaman Falls is especially beautiful during the sunset hours.
Fraser Island
A UNESCO World Heritage site, Fraser Island is one of the world's most interesting and peculiar islands. Located off the coast of Hervey Bay in Queensland, it's the largest sand island in the world.
Essentially, this island is composed of sand that has been collecting for around 750,000 years. What makes it so unique is that it's the only place on Earth where high rainforests grow on sand dunes. Plus, it's also home to the purest strain of dingoes (large Australian wild dogs).
In addition to seeing gigantic sand dunes, you'll also find swimming holes such as the Champagne Pools, Lake Wabby, Lake MacKenzie, Wanggoolba Creek, and more. You can also enjoy off-roading adventures, hiking, fishing, swimming, mountain biking, watching for wildlife, and camping.
Noosa Heads
One of the absolute best natural landmarks in Australia is Noosa Heads. Noosa Heads is an adorable and quaint coastal town with so much to offer. It's not your typical beach town in the sense that the beaches are free from high-rise buildings. You'll only be surrounded by peaceful nature.
When in Noosa Heads, be sure to hang out at one of the pristine beaches. Then, do some hiking at Noosa National Park. You can't miss Mount Timbeerwah Lookout, Buderim Forest Park, and the Noosa Trail Network.
Be sure to kayak along the Noosa Everglades because these are the only everglades in Australia. It's an awesome way for you to see impressive plants and birds. In fact, approximately 44% of Australia's bird species live in these everglades.
Manmade Landmarks in Australia
Port Arthur
Port Arthur is actually a convict settlement on the Australian island of Tasmania. Between 1788 and 1868, the British sent hundreds of thousands of convicts to eleven different Australian towns, which later came to be known as Australian Convict Sites. The most famous of these Australian Convict Sites is Port Arthur.
Port Arthur and the other Australian Convict Sites are now a UNESCO World Heritage Site and part of the Australian National Heritage List.
Melbourne Cricket Ground
If you're a sports fan, the Melbourne Cricket Ground is one of the best landmarks in Australia for you to visit. Locally known as "The G," the Melbourne Cricket Ground hosts both professional soccer (locally known as football) and cricket games.
It's actually the eleventh largest stadium in the world and the second-largest cricket ground in the world!
The best thing to do at the Melbourne Cricket Ground is to obviously catch a professional cricket or soccer game. But if there are no games happening during your time in the city, you can always take a tour of this massive stadium.
Sydney Harbour Bridge
Situated just across the harbor from the Sydney Opera House lies the Sydney Harbor Bridge. This Australian landmark is actually the largest steel arch bridge in the world!
The simplest way to experience the beauty of Sydney Harbor Bridge is by walking across it. Then, you'll be able to see some of the best views of the city and the Sydney Opera House.
But if you're more of an adrenaline junky, you can also scale or climb to the top arch of the Sydney Harbor Bridge! That's definitely something you'll want to check off your bucket list!
Australian War Memorial
Situated in Canberra, the Australian War Memorial was built to remember and honor all those who lost their lives in Australian wars.
This memorial includes three sections: the Commemorative Area (which includes the tomb of the unknown Australian soldier), the war museum, and the research center.
During your time at the Australian War Memorial, you can pay your respects, admire the architecture, and learn about Australia's war history.
The Gold Coast
One of my absolute favorite landmarks in Australia is the city of Gold Coast near Brisbane in Queensland. It's a stretch of gorgeous beaches with beautiful, towering skyscrapers. It reminds me of an Aussie version of South Beach in Miami — except more fun and less crazy.
While here, you should definitely do some beach hopping. The best beaches in Gold Coast include Surfers Paradise Beach, Coolangatta Beach, Main Beach, Kirra Beach, and Mermaid Beach.
If you want epic 360-degree views of the Gold Coast skyline, head to Q1's Sky Deck. I recommend going in the afternoon because the sun will be behind the mountains giving you incredible views.
Lastly, you'll find tons of breweries and restaurants in Gold Coast. I recommend grabbing some takeaway and doing dinner on the beach during the sunset.
Cape Byron Lighthouse
Cape Byron Lighthouse is easily one of the most famous landmarks in Australia. Located in the surfer and hippie town of Byron Bay, you can't miss it if you're in the area. Fun fact — it's Australia's most powerful lighthouse. It's also the easternmost point of mainland Australia.
If you're not into hiking light me, you can drive to Cape Byron and see the lighthouse from there. If you're adventurous, you can walk along the Cape Byron Walking Track to get there.
There's a maritime museum at the base of the lighthouse and you can also go on a quick 20-minute tour of the lighthouse.
The best time to head to Cape Byron is right before sunset. You'll be rewarded with a gorgeous sunset. And, if you're lucky like I was, the dolphins might put on a show for you too! Watching the sunset at Cape Byron is definitely on the list of my top five favorite travel memories.
Brighton Bathing Boxes
I'm sure you've seen these infamous bright-colored boxes on Instagram and you can see them yourself by taking a day trip from Melbourne to the suburb of Brighton.
There are 82 multi-colored boxes and each one is painted in a different pattern. They were built over 100 years ago and they were originally used by women when changing in and out of their swimsuits.
Since you're in Australia, you have to go to Box 2 which has the Australian flag painted on it.
Other Amazing Landmarks in Australia
Yarra Valley
The Rocks in Sydney
Mount Wellington
Parliament House in Canberra
Wineglass Bay
Bruny Island
Bay of Fires
Hamilton Island
Lucky Bay
Grampians National Park
Mount Field National Park
Queen Victoria Markets
Hunter Valley
Litchfield National Park
Kings Canyon
Kata Tjuta/Mount Olga
MONA
Port Jackson Bay
Wilsons Promontory National Park
National Library of Australia
Jenolan Caves
Crade Mountain
Lake Hillier
Great Otway National Park
Jervis Bay
Fitzroy Island
Cape York
What are your favorite landmarks in Australia? Let me know in the comments below!
---
Looking for more Australia travel inspiration? You'll love these posts too!
---
Disha Smith is the founder of Disha Discovers. She quit her job in 2017 to travel the world to explore new cultures and experience new adventures. She has since been to 95+ countries and counting and has lived in South Africa, Thailand, Croatia, and Australia. She has done all kinds of travel ranging from luxury to budget backpacking, and her mission is to inspire others to discover their own sense of adventure and to help them plan a life full of meaningful experiences through travel.