With its abundance of interesting history and gorgeous nature, the state of Georgia is filled with beautiful towns. While most people know about Savannah and Athens, there are so many others that have managed to slip under the radar and earn the title of the prettiest towns in Georgia.
Some boast historic buildings, others have nature-filled gems, and a few even have sandy beaches. These towns are the perfect weekend getaways to escape the busy city life.
Bottom line: If you're looking for the prettiest towns in Georgia, this guide has you covered! I'll admit — it was outright difficult picking which towns to showcase in this article. The Peach State is brimming with amazing towns so I'm sorry in advance if I missed yours!
This post contains affiliate links to the products that I use and trust. This means that I might receive a small commission (at no extra cost to you) if you make a purchase using any of my links below. See full disclosure here.
11 Prettiest Towns in Georgia
---
These 11 Georgia towns are charming, elegant, and well worth visiting! Explore this beautiful state and you can decide for yourself which one is your favorite.
1. Savannah
When thinking of the prettiest towns to visit in Georgia, Savannah will inevitably top the list. With historic architecture, friendly people, and large trees laden with whimsical Spanish moss, it's simply picture-perfect. Savannah is one of those towns that I never want to leave. I feel like I'm in a storybook when I'm walking around.
There are so many relaxing things to do in this adorable Georgia town. You can make your way to Forsyth Park for a picnic or relaxing day in nature or take a boat ride on the Savannah River.
Or if you're looking for something that'll get your adrenaline pumping, you can take one of the many ghost tours offered in town.
Savannah is home to some of the oldest homes in the country dating back to the mid-1700s. Some of them have even maintained their original brick structure. You can find these houses at East and West Jones Street.
If you want to experience a Spanish-moss fairytale, wander around Wormsloe Park. This is a perfect Instagram spot so make sure you wear a cute dress and strike some poses.
Last, but not least, if you're a Forrest Gump fan, you're in for a treat! Grab a box of chocolates and head over to Chippewa Square for a photo opp.
2. Helen
Helen is undoubtedly one of the best towns to visit in Georgia, simply because it's one-of-a-kind. In fact, Helen is one of the absolute cutest small towns in America!
In the 1960s, some of Helen's local businessmen decided to come up with a plan to improve the town and bring in more tourists. These businessmen inevitably spoke to their friends to drum up ideas for this glamorous town makeover.
One of these friends was an artist from Germany, who, after getting approval, decided to go all out and add his German heritage into every aspect of the town of Helen.
To go along with the German-inspired exterior, there are German-influenced attractions in Helen as well.
The most popular is the alluring Hansel & Gretel Candy Kitchen. There are also many nature-focused attractions near this quaint German town, including Anna Ruby Falls and the Chattahoochee River.
This German-inspired town's uniqueness makes it one of the coolest getaways on the East Coast!
---
RELATED: Best Getaways on the East Coast: 12 Spectacular Destinations!
---
3. Athens
Athens, Georgia was first established in the late 18th century, and many of the historic buildings from that time are still standing today.
While this admirable architecture certainly makes Athens one of the prettiest towns in Georgia, it's the trendy vibe that sets it apart from the other historic towns in the state.
If you're more interested in the historical aspect of Athens, you should add the buildings of downtown, The Tree That Owns Itself, and the Athens double-barreled cannon to your Athens bucket list.
But, if you're looking for the coolest things to do in Athens, you should certainly catch a show at one of the town's noteworthy live music venues, take a music history walking tour, or check out the gem known as the Blue Ridge Mountains.
4. Tybee Island
If you're hoping to visit one of the prettiest towns in Georgia on the beach, Tybee Island is definitely a fantastic option. With its bright blue waters, pristine white sand, and pastel-colored sunsets, it certainly deserves more recognition.
Tybee Island has a friendly small-town vibe to it and it's a family-friendly vacation spot. It's the perfect combination of a little old and a little new. This island is full of history with modern charm.
The first thing you should do on Tybee Island is enjoying the stunning beaches, including North Beach and Mid Beach. Tybee Island has almost three miles of sandy beaches so it's perfect for water sports, sunbathing, swimming, kayaking, and just relaxing.
You can also learn about sea creatures at the Tybee Island Marine Science Center, discover the history of the area at the Tybee Island Light Station and Museum, and visit the historic Battery Garland.
---
RELATED: 14 Underrated Destinations in the USA You Should Visit
---
5. Dahlonega
Dahlonega's claim to fame was the fact that it was the site of the U.S.' first gold rush in 1828. This history has not been forgotten as there are gold-focused attractions all around this adorable town.
You can learn about the history of the gold rush at the Dahlonega Gold Museum, take a tour of the mines with Consolidated Gold Mines Inc., and pay a visit to the Crisson Gold Mine.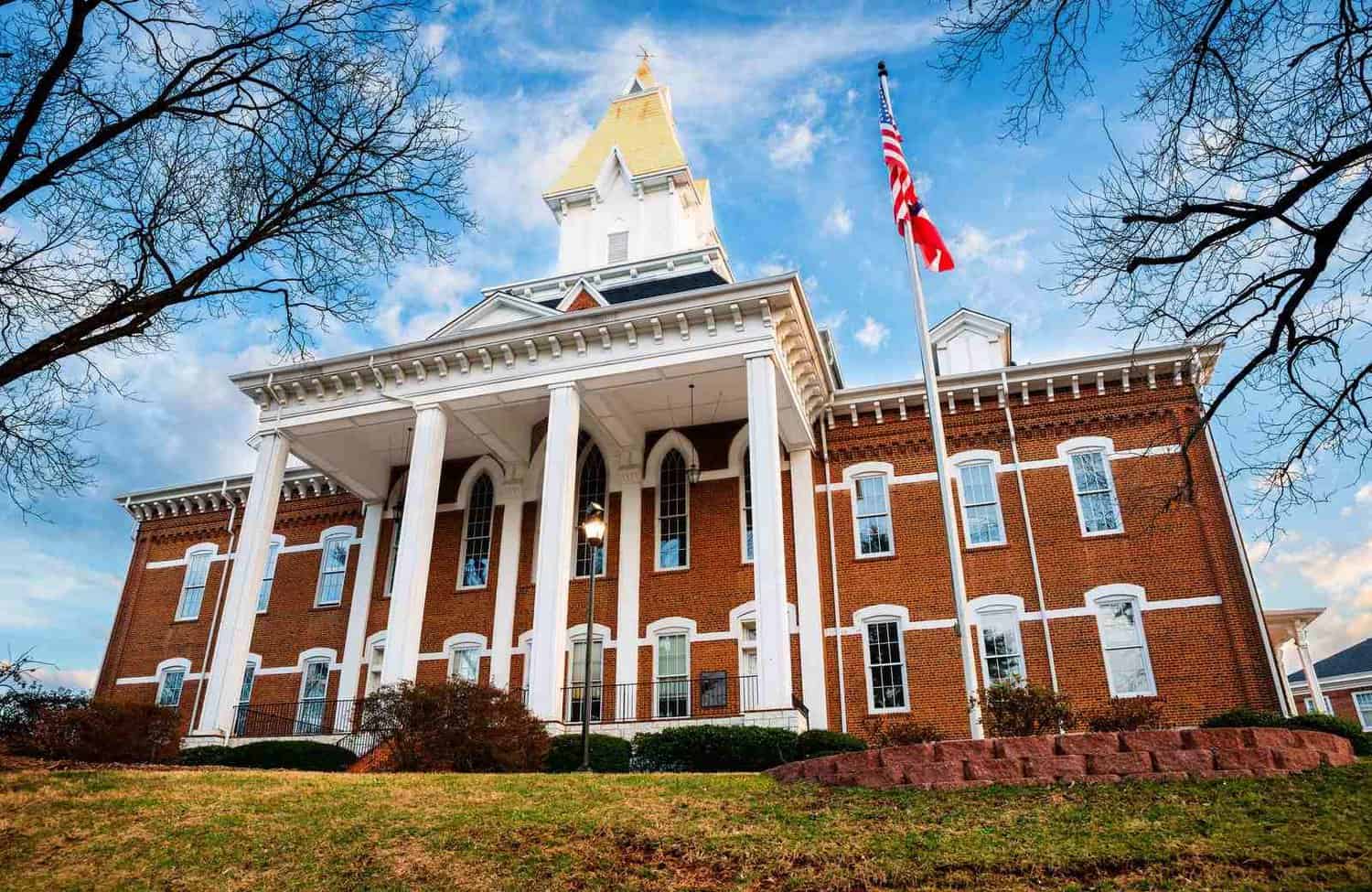 While the gold has been the major draw of Dahlonega for nearly two centuries, the booming wine industry may now be the town's primary highlight.
There are a handful of noteworthy wineries in this tiny town, including Three Sisters Vineyards & Winery, Cavender Creek Vineyards & Winery, and Wolf Mountain Vineyards & Winery. While at any of these vineyards, you can take a tour, sample the wine, and even buy a bottle or two to take home with you.
You can also hit the trail as Dahlonega is Appalachian Trail's southern access point. Enjoy some hiking and mountain biking if you're up for an adventure.
6. Madison
The little town of Madison, Georgia just exudes Southern charm — so much so that it's consistently been used as a movie set since the 1970s. Goosebumps, My Cousin Vinny, and Hidden Figures have all been filmed in this picture-perfect town.
To add to the appeal, Madison is also part of the Historic Heartland on Georgia's Antebellum Trail. This 100-mile trail winds its way through the most well-preserved towns in the state!
And since Madison is part of this important trail, the town works hard to preserve the buildings. As a matter of fact, many of them were carefully restored throughout the 19th century.
Today, you can admire all of these restored buildings. You can tour one of the many historic Antebellum homes, spend a couple of hours at the Madison-Morgan Cultural Center, and pop into the shops in the old town square.
7. Dublin
Named after the famous city of Dublin, Ireland, this Georgia town is filled with charming architecture and Irish culture. Like most of the prettiest towns in Georgia, Dublin is filled with eye-catching historic buildings. But it's the celebration of Irish culture that sets this town apart from all the rest.
You can catch live Irish music at the Theater Dublin or take part in the over-the-top St. Patrick's Day celebration. This annual event is filled with Irish music, food, dancing, and drinks, so you're bound to have loads of fun!
---
RELATED: USA Weekend Trips: 16 Amazing Destinations for a Short Getaway
---
8. Toccoa
With a population of fewer than 10,000 people, Toccoa is one of the smallest towns on this list. But regardless of its size, it's undoubtedly one of the prettiest towns in Georgia, thanks to the natural beauty in the area.
Since Toccoa is situated in the foothills of the Blue Ridge Mountains, there is lush greenery all around this small town.
As a matter of fact, even though Toccoa is only eight square miles, it home to both the 187-foot Toccoa Falls and the 12-foot Henderson Falls.
And if you're looking for something other than nature to add to your itinerary, you can also visit the charming Paul Anderson Memorial Park and catch a breathtaking sunset from the Toccoa Train Trestle.
9. Canton
Like Toccoa, Canton is nestled in the foothills of the Blue Ridge Mountains. Consequently, much of its allure comes from the natural landscape.
The easiest way to get up close and personal with Canton's nature is by going on a hike. The Reinhardt Hiking Trails, Summit Trail, and Pine Log Creek Trail are all worth your time.
But if you're not much of a hiker, you can still admire Canton's nature by paying a visit to Boiling Park, Etowah River Park, or Hickory Trails Park.
Like many of the prettiest towns in Georgia, Canton also boasts amazing historic buildings that add to the destination's charm. Most of the noteworthy architecture in Canton is situated in the heart of the town.
10. Jekyll Island
Like Tybee Island, Jekyll Island is one of the adorable Georgia beach towns. As a matter of fact, it's a popular vacation destination for even local Georgians!
Jekyll Island was purchased in 1886 by a group of wealthy families as their private retreat. Then, the State of Georgia purchased it in 1947.
The best part about visiting Jekyll Island is that the beaches are undeveloped so you won't find skyscrapers along the beaches here. You'll have a more tranquil and serene time here compared to Miami or Gulf Shores.
The reason Jekyll Island is on this list of the prettiest towns in Georgia is its beaches. While Driftwood Beach is by far the most popular beach on Jekyll Island, there is also Jekyll Island Oceanview Beach Park, Saint Andrew Beach, and Sharktooth Beach.
And while you can suntan and swim at all of these beaches, there are quite a few other activities that you can do either in the water or along the sandy shoreline. You can go boating, kayak, keep an eye out for turtle nests, or try your hand at birdwatching.
11. St. Marys
Despite its small size of only 25 square miles, St. Marys has managed to establish itself as one of the prettiest towns in Georgia.
This little town in southeast Georgia was actually one of the first places in North America to be explored by Europeans. Since then, the locals of St. Marys have worked hard to preserve the area's history for hundreds of years.
Today, you can stroll along the St. Marys historic walk, visit the beautiful St. Marys Waterfront Park that was established in the 1800s, and attend a service one of the many churches that have remained standing for centuries.
St. Marys is also the gateway to the lovely Cumberland Island, a popular tourist destination in the South.
While on Cumberland Island, you can take a breezy ride on the Cumberland Island ferry, learn the history of the island at the Cumberland Island National Seashore Museum, or check out the Dungeness Castle ruins.
Do you have any destinations to add to this list of the prettiest towns in Georgia? Let me know in the comments below!
---
Are you looking for more USA travel destinations? You'll love these posts too!
USA Christmas Destinations: 11 of the Best Holiday Getaways in America
20 Bucket List Places to Visit in the US
USA Weekend Trips: 16 Amazing Destinations for a Short Getaway
14 Underrated Destinations in the USA You Should Visit
The Perfect 10-Day Southwest Road Trip Itinerary
12 of the Best Getaways on the West Coast
Best Weekend Trips in Texas: 13 Perfect Locations!
New England Road Trip Itinerary: 10 Days Exploring the Northeastern US
Weekend Trip to Nashville: 16 Fun Things to Do in Music City
Best Getaways on the East Coast: 12 Spectacular Destinations!
---
Disha Smith is the founder of Disha Discovers. She quit her job in 2017 to travel the world to explore new cultures and experience new adventures. She has since been to 95+ countries and counting and has lived in South Africa, Thailand, Croatia, and Australia. She has done all kinds of travel ranging from luxury to budget backpacking, and her mission is to inspire others to discover their own sense of adventure and to help them plan a life full of meaningful experiences through travel.