If you're looking to explore the best of Mykonos in one day, you've come to the right place!
With its iconic Cycladic windmills, narrow winding streets, and stunning sea views, Mykonos is one Greek destination you don't want to miss on your Mediterranean adventure.
Although it's smaller than some of Greece's other islands, what it lacks in size, it more than makes up for in character.
Mykonos truly has it all — from its world-famous party scene to its traditional architecture and stunning beaches to more!
In this post, I'll show you the best places to wander around, explore, and enjoy the incredible scenery and history of Mykonos.
By the end of this guide, you'll know exactly what to do in Mykonos in 1 day, whether you're visiting via cruise or on your own.
This post contains affiliate links to the products that I use and trust. This means that I might receive a small commission (at no extra cost to you) if you make a purchase using any of my links below. See full disclosure here.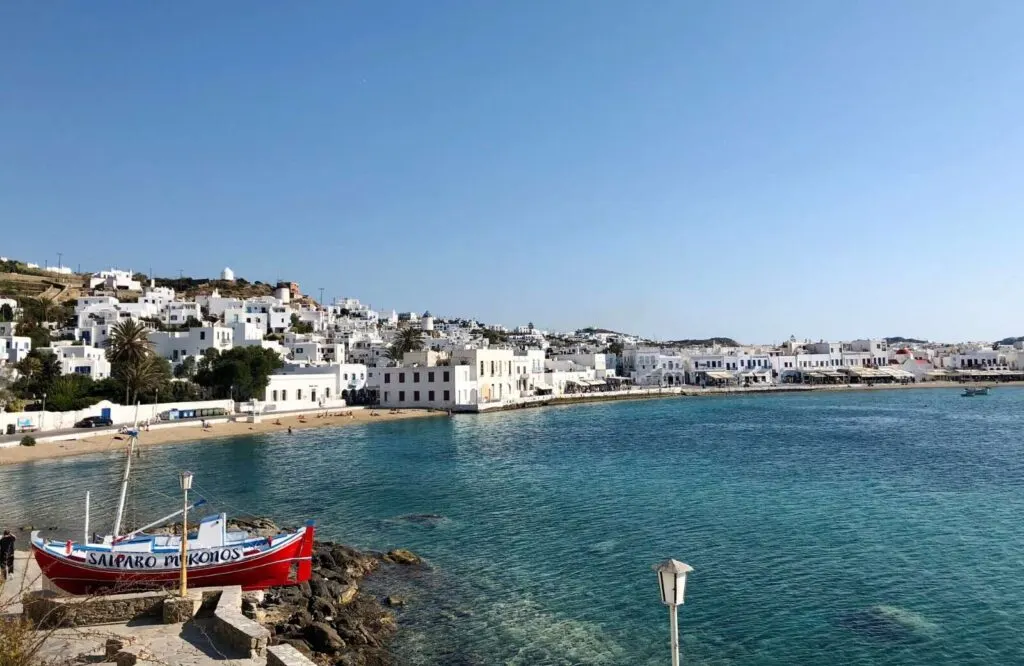 👉 Don't have time to read the whole post? This Mykonos half-day private tour is the perfect choice for exploring the best of Mykonos in a short amount of time.
What to Do in Mykonos in One Day: Itinerary Overview
This Mykonos in one day guide covers all the must-see places and things to do on this beautiful Greek island.
My first trip to Mykonos was only a one day overnight trip, but it was enough for me to explore and discover most of the main attractions and to leave feeling like I got a good overview of the island.
I've crafted this 1 day in Mykonos itinerary, assuming you'll be starting your day no later than 10 am so you can make the most of your short time here.
I also added a few more things to do if you happen to fly through this itinerary or if you happen to have an extra day in Mykonos.
You'll also find helpful tips and tricks at the end of the post, so you'll have all the information you need to have an amazing one day in Mykonos!
Here's everything on my Mykonos 1 day itinerary. You can read more about each place below and how to maximize your time at each stop.
Morning: Mykonos Old Town (Chora), Kato Milli (windmills), and beaches
Afternoon: Day trip to Delos
Evening: Armenistis Lighthouse and Little Venice
Mykonos in One Day: Morning Itinerary
Wander Around Mykonos Old Town (Chora)
I recommend starting your day by getting lost in the charming streets of Mykonos Old Town (Chora).
This is the most iconic and picturesque part of the island, so be sure to have your camera ready!
As you meander through the narrow alleyways, you'll stumble upon beautiful whitewashed houses, quaint cafes, and colorful bougainvillea, making Mykonos one of the best Greek islands for couples.
According to history and archaeological finds, the ancient city of Mykonos was founded in the 11th century B.C. by the Ionians, one of the major Greek tribes of Ancient Greece.
Legend has it that the island's winding streets were designed this way to confuse invaders who were looking to raid Mykonos.
Whether or not that's true, one thing is certain — getting lost in Chora is half the fun!
See the Infamous Windmills (Kato Milli)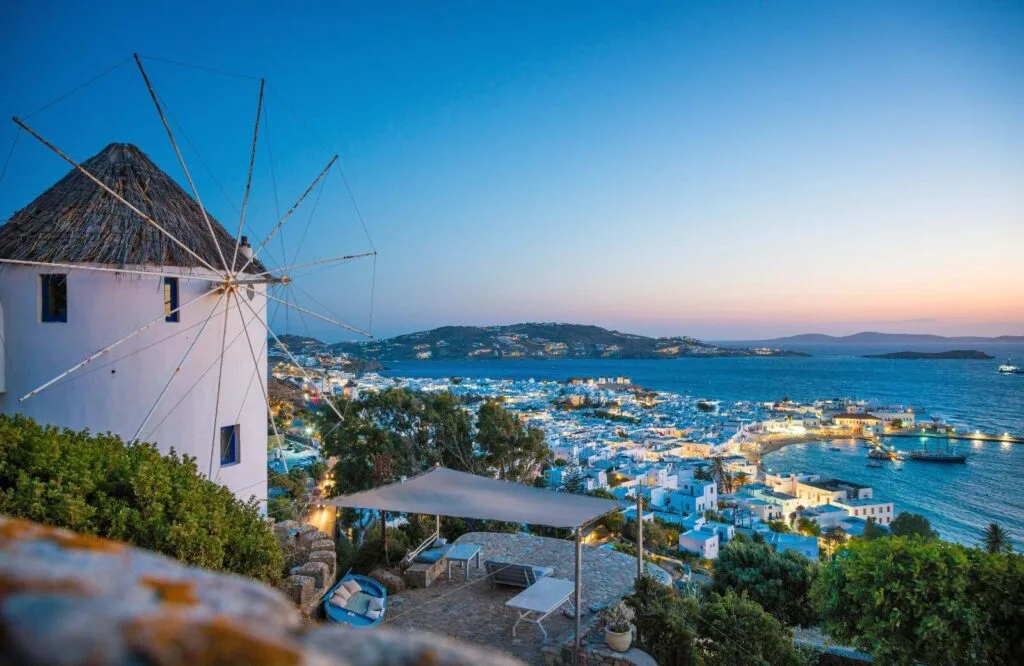 The windmills of Mykonos are some of the most iconic landmarks on the island. The windmills are to Mykonos what the Colosseum is to Rome.
These beautiful structures have been a part of the Mykonian landscape for centuries, and they continue to awe visitors from all over the world.
They date back to around the 16th century and were used for grinding grain into flour. But, they fell into disuse after the introduction of electricity.
Today, the windmills are a popular tourist attraction and they offer a stunning view of the Aegean Sea.
The windmills are a testament to the hard work and ingenuity of the island's residents, and they're a beloved symbol of the island's history and culture.
Hit the Beaches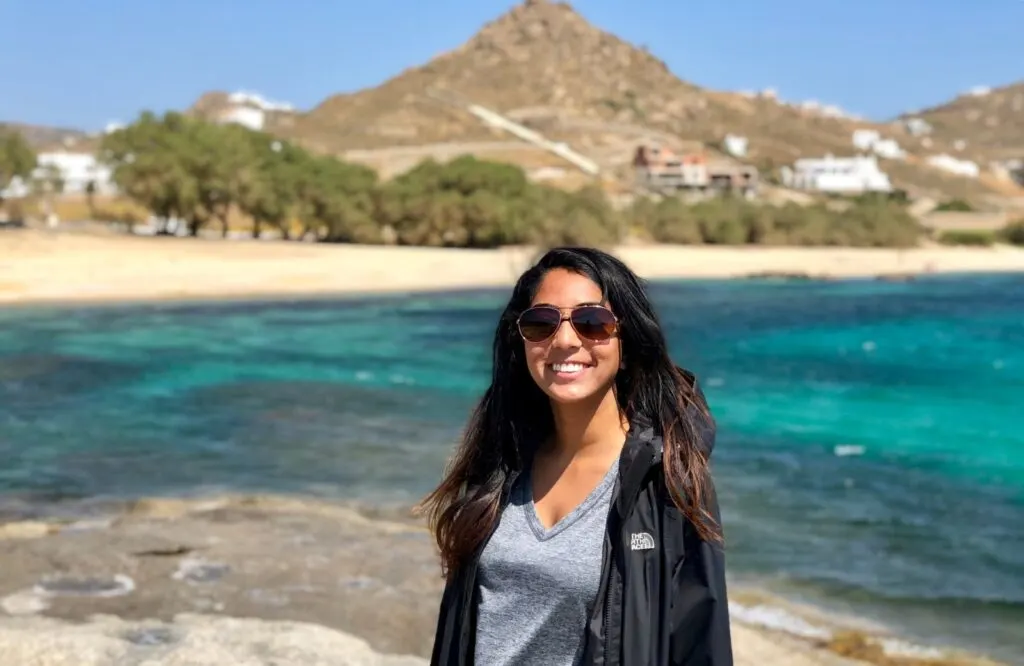 Greece is a beautiful country with a rich history and culture. And among its many charms, the beaches of Mykonos are some of the most stunning in Europe.
With their sparkling azure waters and soft sandy shores, they are the perfect place to relax and enjoy the Mediterranean sun.
Whether you're looking for a quiet spot to paddle in the shallows or a lively beach with plenty of activities on offer, you are sure to find it on this idyllic Greek island.
There are many different beaches to choose from, each with its own unique character.
For example, Lia Beach is a great spot for families since it has shallow water and plenty of sun loungers.
Kalafatis Beach is popular with surfers and windsurfers thanks to its strong winds and waves.
And Super Paradise Beach is a favorite among party-goers with its lively atmosphere and beach bars.
If you're deciding between Santorini or Mykonos for a vacation and you want to enjoy some time on the beach, keep in mind that Mykonos is known for sandy beaches while Santorini is known for pebbly beaches.
24 Hours in Mykonos: Afternoon Itinerary
Mykonos to Delos Day Trip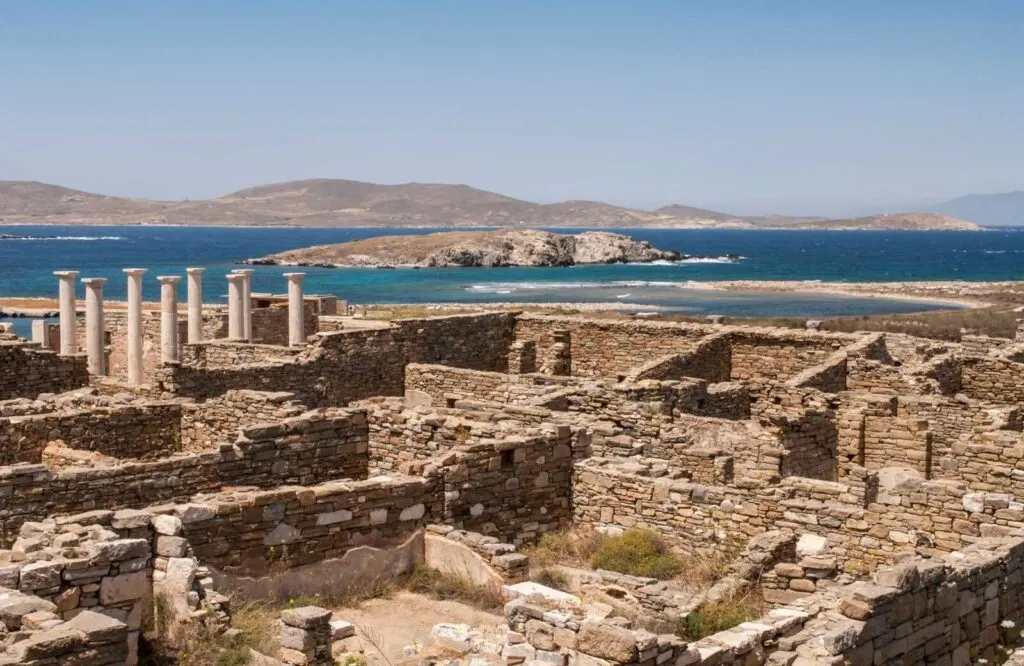 Delos is an uninhabited island located just a short boat ride away from Mykonos and is a popular day-trip destination for visitors to Mykonos.
It was considered to be the birthplace of Artemis and Apollo, two of the most important deities in Greek mythology.
As a result, the island was considered to be sacred ground, and it was forbidden for anyone to die or be born there.
In later years, Delos became an important center of the maritime trade, and its port was one of the busiest in the Aegean Sea.
Today, Delos is one of the most prominent archaeological sites in Greece and is known for its well-preserved ruins and stunning views.
Delos offers the opportunity to explore the temples and homes of the ancient city, where you can get a glimpse into the lives of its former inhabitants.
🏛️ Immerse yourself in the history of Delos on this half-day Delos tour from Mykonos. This tour includes a certified tour guide and a round-trip boat ticket so you can explore the island's iconic remains with ease.
One Day in Mykonos: Evening Itinerary
Watch the Sunset From Armenistis Lighthouse
There's just something about watching the sunset from Armenistis Lighthouse that will leave you feeling like you've truly experienced the magic of Mykonos.
Maybe it's the way the sun dips below the horizon, painting the sky in a spectrum of oranges, reds, and purples.
Or maybe it's the way the last rays of light reflect off the Aegean Sea, creating a scene that is both tranquil and breathtaking.
Whatever the case may be, Armenistis Lighthouse is a must for sunset.
This beautiful spot offers breathtaking views of the Aegean Sea as the sun dips below the horizon.
Located on the northwestern part of the island, Armenistis Lighthouse will be a highlight during your Mykonos in one day adventure.
Enjoy Dinner in Little Venice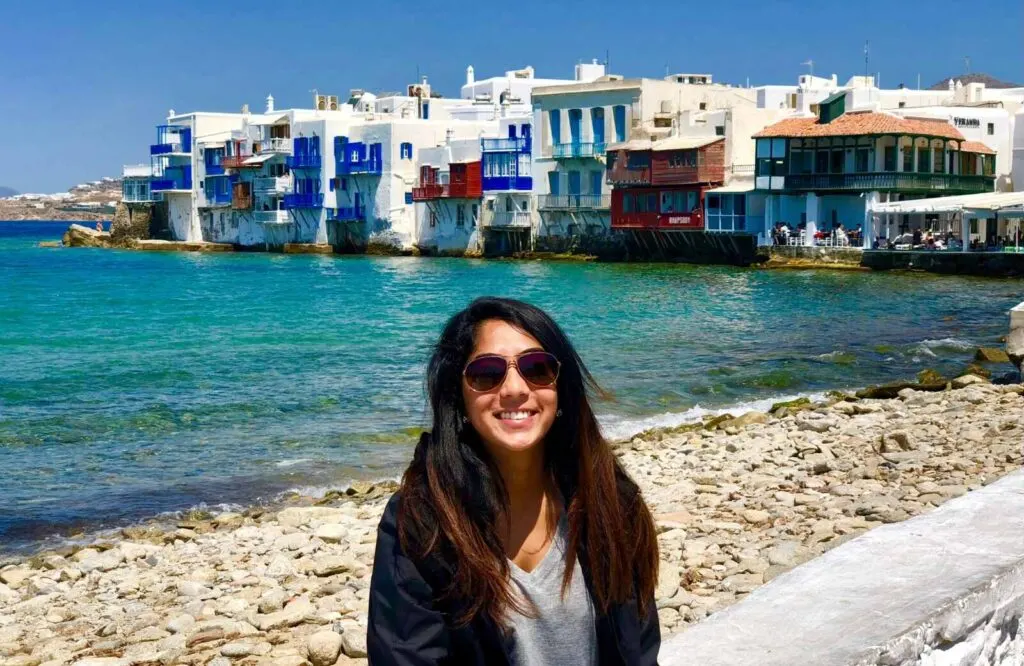 Little Venice is one of the most popular spots in Mykonos and for good reason.
It got its name from the Venetian-style buildings that line the waterfront, which were built by wealthy merchants in the 18th century.
Today, these buildings have been transformed into bars and restaurants, making Little Venice the perfect place to enjoy a drink or dinner while watching the sunset.
The restaurants are obviously a draw, but the setting is what really makes Little Venice special.
It's the perfect spot to enjoy stunning views of the Aegean Sea while savoring some local fresh seafood and other traditional Greek dishes.
Little Italy comes alive at night, making it the perfect spot to end your Mykonos in one day trip.
Helpful Tips for One Day in Mykonos Greece
Below are some helpful tips for planning your Mykonos in 1 day adventure.
How to Get to Mykonos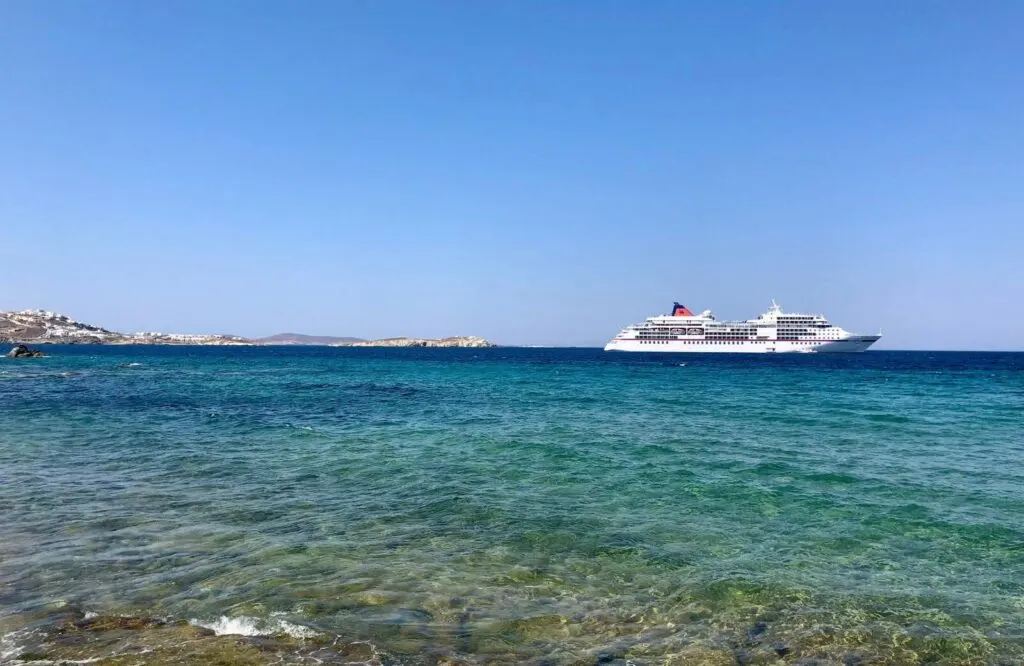 Getting to Mykonos is easy whether you're coming from Athens or another nearby island.
There are daily flights from Athens to Mykonos Airport (JMK), and the flight time is only about 45 minutes.
If you're already in Greece and on one of the other popular islands, such as Santorini or Crete, you can take a ferry to Mykonos.
The ferry ride is slightly longer than the flight, but it's a great way to see some of the other Greek islands along the way.
Many visitors also come to Mykonos on cruise ships since the island is a popular stop on many Mediterranean cruise itineraries.
The Best Way to See Mykonos in One Day
There are many ways to explore Mykonos, but if you only have one day, I recommend taking a guided tour.
The local guide is an expert on the island and knows exactly what to do in Mykonos in a day.
This way, you can make the most of your time and see all the best highlights of Mykonos without having to worry about getting lost or missing anything important.
But, I know not everyone likes taking guided tours and would rather explore on their own. (Depending on the destination, I'm the same way).
Luckily, you'll have my suggested itinerary above, which you can use to explore Mykonos on your own.
🇬🇷 See the best of Mykonos on this private island tour. You'll visit beaches, nearby towns and villages, monasteries, and more! It also includes hotel pickup and drop-off and is the perfect way to see Mykonos in its full glory!
Where to Stay in Mykonos
There are many great places to stay in Mykonos, but if you're only staying for one day, I recommend staying in the Old Town (Chora) area.
This is the best location to be based in because it's centrally located and close to all the main sights and attractions.
With its winding streets and white-washed buildings, it's the perfect place to get a taste of authentic Greek culture.
👉 If you're looking for specific accommodation recommendations, below are a few of my favorites in the Old Town area:
The TownHouse Mykonos: Located only 98 feet away from the beach, this boutique hotel features whitewashed walls and is within walking distance of all of the best attractions.
Eleanna's Mykonos: This charming hotel is located right in the heart of Mykonos and offers a stunning terrace with gorgeous views.
Lefteris: This family-run hotel is modern and clean and close to everything in Mykonos. The rooftop is a great place to catch beautiful views of the town.
Best Time to Visit Mykonos in One Day
The best time to visit Mykonos for great weather is from late April to early November, when the weather is pleasant and sunny.
But remember that the peak season is from June to August when the island is busiest with tourists.
As a result, prices for accommodation and activities are also higher during this time.
If you want to avoid the crowds, I recommend visiting Mykonos in September and October or April and May when the weather is still nice, but there are fewer tourists.
How to Get Around Mykonos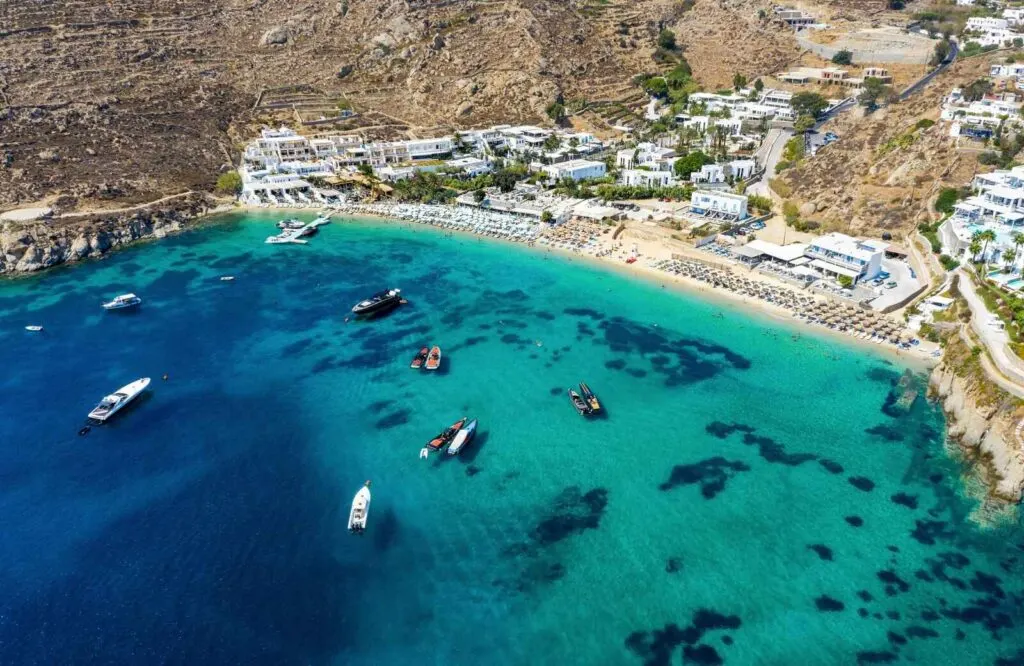 Since you'll only be spending one day in Mykonos Greece, the easiest way to get around is by taxi, bus, or foot.
There's really no need to rent a car unless you're staying longer than a day and want to explore some of the more rural areas of the island.
Most of the sights and attractions in Mykonos are located in or near the Old Town area, so you can easily walk to them.
If you do want to venture out further, there are local buses that run throughout the day, and taxis are always available.
Taxi fares are on the pricier side, so I recommend taking a taxi only if you're traveling in a group or have a lot of luggage.
The local buses are very affordable and run frequently, making them the best way to get around Mykonos without breaking the bank.
Tips for Seeing Mykonos in One Day
Since you'll only be sightseeing Mykonos in one day, here are some tips so you can make the most of your time and see as much as possible.
I recommend getting an early start so you can beat the crowds and have more time to explore.
Use my suggested itinerary as a starting point, but feel free to modify it to fit your own interests and schedule.
Since you'll be short on time, prioritize the must-see sights and attractions and save the rest for another trip.
Don't forget to take breaks throughout the day to rest your feet and grab a bite to eat. There are plenty of great restaurants and cafes in Mykonos where you can relax and refuel.
Ask the locals for restaurant recommendations so they can point you to an authentic Greek dining experience. (Pepper Souvlaki & More is one of my favorites).
If you're on a budget, grab a cheap souvlaki for lunch so you can splurge a little for dinner.
If possible, try to avoid visiting Mykonos on weekends, as this is when the island is busiest with tourists.
Make sure to leave time for shopping! There are many great shops in Mykonos selling everything from souvenirs to designer clothing.
Lastly, have fun and enjoy your time on this beautiful Greek island!
Is 1 Day in Mykonos Enough?
If you're short on time, one day in Mykonos is enough to get a taste of what the island has to offer.
However, if you can, I recommend staying for 2-3 days so you can explore at a slower pace and get off the beaten path in Mykonos.
There are many great beaches, restaurants, and activities to enjoy, so spending a few extra days on the island is worth it if you can swing it.
What to Do If You Have More Than One Day in Mykonos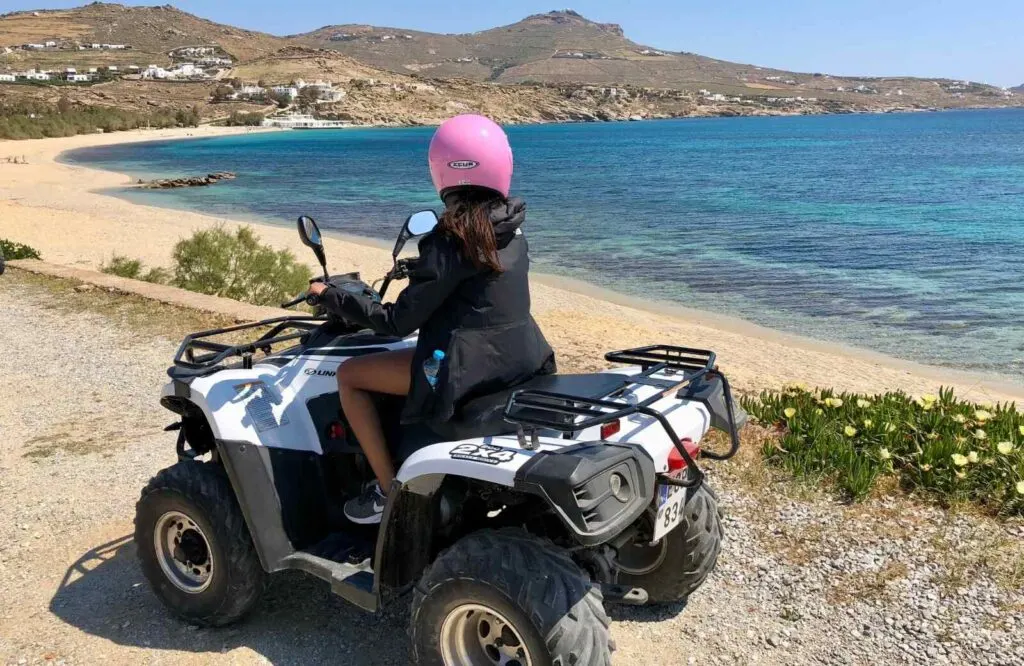 If you're lucky enough to have more than one day in Mykonos, here are a few suggestions for things to do with your extra time:
One Day in Mykonos Greece Final Thoughts
If you're looking for an amazing, picturesque Greek island to explore, Mykonos is the perfect destination.
With its stunning beaches, charming villages, and historical sights, you'll be able to enjoy everything this beautiful island has to offer.
Some of the highlights on this Mykonos in one day guide include wandering around the town, exploring the island's history and scenery, and enjoying some great food and shopping.
Make the most of your Mykonos in one day visit by following this guide on the best things to see and do!
Mykonos in One Day Related Posts:
Mykonos Travel Planning Guide
🚑 Should I buy Greece travel insurance for Mykonos?
100% YES! Having travel insurance can be incredibly beneficial in a variety of situations. It can cover medical emergencies, trip cancellations, lost or stolen items, etc. It'll give you peace of mind while traveling starting at only $5-10 USD per day with Safety Wing.
🚰 Can you drink the water in Mykonos?
No. Tap water isn't safe to drink in Mykonos. I recommend buying a Brita insulated filter water bottle so you can filter your water on the go without worrying about getting sick.
🚗 Is it safe to rent a car in Mykonos?
Yes! Renting a car in Mykonos is safe, and it's a great way to explore the town and its surroundings. I recommend Discover Cars because you can easily compare the prices and policies of several companies at once so you can find the best deal.
📱 Will my phone work in Mykonos?
No. If you're traveling from the States to Mykonos, your phone won't work there. You'll want to get an eSIM card from Airalo. Rather than going through the hassle of buying a physical SIM card when you land, you can download an eSIM through Airalo's app and install it right away so you can use your phone as soon as you land.
🏨 What's the best way to book my Mykonos accommodations?
My go-to for booking hotels in Mykonos is Booking.com because they have a wide range of options, from budget-friendly to luxury. If you're looking for a more home-y feeling place, I recommend VRBO, which is a cheaper and better option than Airbnb.
✈️ What's the best site to buy flights to Mykonos?
I recommend Kiwi.com for finding cheap flights to Mykonos. They offer an easy-to-use website that compares prices from multiple airlines to help you find the best deal on flights to your trip to Mykonos and anywhere else in the world.
Disha Smith is the founder of Disha Discovers. She quit her job in 2017 to travel the world to explore new cultures and experience new adventures. She has since been to 95+ countries and counting and has lived in South Africa, Thailand, Croatia, and Australia. She has done all kinds of travel ranging from luxury to budget backpacking, and her mission is to inspire others to discover their own sense of adventure and to help them plan a life full of meaningful experiences through travel.